Many people wonder what a law school exam is like. Most exams for an associate's or bachelor's degree are regurgitation exams where you quickly spit large amounts of memorized information out of your fingertips until your hands are sore from writing. Some master's degree exams are like that, too, but you may also be asked to create new research from existing facts and concepts and to document your findings. You will write several papers of 20 pages or more for several courses. Your master's degree thesis will likely be around 100 pages. At the Ph.D. level, your dissertation - a fancy word for a really big paper based on new research - will likely span 200-300 pages. Most people have trouble writing 2-3 pages, let alone 200-300.
Law school is quite different. A law school exam is not about creating something new, but rather deciphering facts, drawing multiple conclusions, and showing the lines of reasoning you devised to get to each of these conclusions. Knowing and understanding legal jargon and principles is a must and the only way to learn all of this is to dive right into the study of cases. Writing case briefs, or summaries of actual cases in your own words, is good practice for determining the principles introduced and applied in each case. Nobody will teach you how to do this. You figure it out on your own. Your exam is graded anonymously, so there is no opportunity for bias in grading. You are given X time to complete Y questions, so, for example, 3 hours to complete 6 questions. Each question could require an hour or more of time, so if you cannot quickly recall facts and cases, you're basically hosed. The only way to adequately prepare for a law school exam is to be fluent in your knowledge of the law and how to apply the rules of law to different scenarios. This is where active class participation can help you.If you typically tune yourself out in a classroom, you'll be in trouble. Exam questions are typically in the following format:
Blah blah blah... case details... case details about case details... blah blah blah for half a page to two pages of text... lots of details... too many details... some useless but they're all there...
The questions then appear in the following format (note the all caps):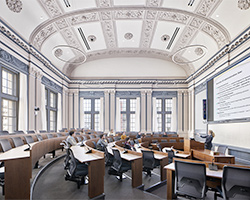 WHAT LEGAL ADVICE WOULD YOU GIVE TO YOUR CLIENT? IF PERSON X SUES PERSON Y FOR BREACH OF CONTRACT, WHO WILL PREVAIL AND WHY? IF SUCH AND SUCH DID NOT HAPPEN, WHAT WOULD YOUR ADVICE BE? IF SUCH AND SUCH HAPPENED ANOTHER WAY, WHAT WOULD YOU DO? IF PERSON X DIDN'T DO THIS BUT PERSON Y DID THAT, HOW WOULD THAT CHANGE THE OUTCOME? IF PERSON X DIES, THEN WHAT? IF Y WAS NOT A PERSON BUT AN LLC, THEN WHAT? ARE YOU FUCKING INTIMIDATED BY SOMEONE SCREAMING AT YOUR FACE HALF A DOZEN TIMES LIKE THIS?
If you get intimidated easily, then law school might not be for you.
Now imagine what a law school class is like. In the more popular classes, you sit in a large room with semi-circular tables so that everyone can see you. The professor lectures a little and uses the Socratic Method to enhance your understanding of the material. Most people who've never experienced the Socratic Method will feel very anxious being cold-called. The professor calls your name, walks up to you, engages in a dialog with you, and everyone else watches as you try not to sound like an idiot. You don't have to know the answer to every question, but it helps your reputation if you do. If you guessed that the Socratic Method could be a lot like the exam questions I mentioned, you're right.
Many people wonder why I chose Penn Law to pursue my legal education. The reputation of Penn Law speaks for itself. It's an elite law school ranked number 6 in the nation and only through a program like this will I be able to interact with a variety of world-class teachers and legal professionals. In my first semester at Penn Law, I got to see lectures by Judge Phil Restrepo, a Circuit Judge of the U.S. Court of Appeals for the Third Circuit, and Liz Abrams, Assistant U.S. Attorney for the Department of Justice. In my second semester, we studied a case judged by Philadelphia District Court Judge Dan Anders and met him in class to discuss that case. The following week, we studied a case judged by Judge Phil Restrepo and met him in class to discuss that case.
Lastly, many people might wonder why I'm studying law and why I chose to do so now. I was a pre-law major in college, then switched to pre-med, and then switched to computer science. Math and science were always easy for me, so computer science was the easiest way to support myself after school. Despite being in honors history and english classes in high school, I absolutely detested politics, so giving up my pursuit of law in college made sense at the time, but I always felt unfufilled, like I was meant to do a lot more. I found myself going back to questions of law every time I encountered issues of copyrights, entertainment law, torts, family law, and other matters that affected me personally. After delving into engineering, business, fine arts, and counseling courses at the master's and Ph.D. levels, I finally found a graduate degree program that is super-interesting and complements my work schedule.
LAWM 5110 U.S. Law and Legal Methods - Fall 2021 - This survey course introduces students to all aspects of U.S. law through a combination of case law and some use of the Socratic method, both techniques unique to legal education. The course explores the structure of government and the constitutional foundations of the U.S. legal system and covers a wide range of topics in the areas of civil, criminal, and administrative law. The course will incorporate recent cases of note into the curriculum and provide an overview of legal issues which impact professionals in a variety of fields, including but not limited to law. Although the course's primary source material will be a textbook which has been successfully used in prior years, the curriculum will be supplemented by additional readings involving recent cases, many of them local and involving important constitutional issues, to ensure the class is brought current and to further stimulate discussions. My Notes: We discussed the details of 77 cases and referred to dozens of others throughout the semester. That's a lot of cases! I found Nexis+ and Quimbee to be very helpful in my understanding of the cases. I found that re-reading the textbook and class notes solidified my understanding of the material.
LAWM 5110 Final Exam Preparation
I prepared for this exam in the same way I prepared for all of my important exams in life. RTFTA, or read the fucking textbook again!
December 7 to 8, 2021 - Re-read Chapter 1: Basic Principles of American Law that discusses Articles I, II, and III of the Constitution along with cases that support each. 9 textbook cases, 5 supplemental cases. 36 pp.
December 8 to 9, 2021 - Re-read Chapter 2: Constitutional Law: Individual Rights that discusses the Bill of Rights, Due Process, Equal Protection, Establishment and Free Exercise Clauses, Free Speech. 8 textbook cases. 58 pp.
December 9 to 10, 2021 - Re-read Chapter 5: The Legal Profession that discusses the duties and obligations of lawyers. 9 textbook cases, 2 supplemental cases. 39 pp.
December 10, 2021 - Re-read Chapter 3: Civil Procedure and the Federal Courts that discusses the different kinds of jurisdiction, federal versus state court considerations, and the anatomy of a trial in civil procedure. 6 textbook cases, 4 supplemental cases. 41 pp.
December 12, 2021 - Re-read Chapter 4: Criminal Law and Procedure that discusses the anatomy of a trial in criminal law. 4 textbook cases, 4 supplemental cases. 49 pp.
December 12, 2021 - Re-read Chapter 6: Contracts that discusses the elements of a contract, the different kinds of contracts, performance, and breach of contract. 5 textbook cases, 4 supplemental cases. 29 pp.
December 12, 2021 - Re-read Chapter 7: Tort and Product Liability that discusses the elements of a tort, intentional and unintentional torts (negligence), duty owed, punitive damages, and product liability. 6 textbook cases, 3 supplemental cases. 35 pp.
December 13, 2021 - Re-read Chapter 8: Property that discusses ownership and acquisition of property, leases, eminent domain and takings, and zoning. 4 textbook cases, 1 supplemental case. 33 pp.
December 13, 2021 - Re-read Chapter 9: Intellectual Property that discusses copyright, patent, trade secret, and trademark. 7 textbook cases. 39 pp.
December 13 to 16, 2021 - Review slide decks, supplemental readings, notes, and videos. 465 pp. 323 pp. 47 pp. 26 hours.
Total reading: 1,194 pages
Total watching: 26 hours
December 17, 2021 - Final exam - 4:30pm to 8:00pm - An open-book exam in which you may only use your textbook and notes. Three and half hours might seem like a lot of time, but it's not, especially when you're trying to answer six out of seven essay questions where each one normally requires an hour to an hour and a half for a decent response. Ultimately, you need to be prepared and you probably shouldn't be looking up every word, phrase, or detail you need, because that cuts into your time. Some of my brightest classmates ran out of time trying to complete their exams; that's how difficult this exam is. My final grade: A+
The Law School's grading system consists of A, A-, B+, B, B-, C, and F grades, with a rare A+ awarded for distinguished performance.
LAWM 5280 General Business Law - Spring 2022 - This course examines the fundamentals of business law. The course focuses on the core legal issues faced by any business, including contracts, employment law, business organizations and governance, mergers and acquisitions, business torts, intellectual property, administrative/regulatory compliance, and litigation/risk management. At the course's conclusion, students should be able to identify potential legal issues arising in a business context, evaluate advice offered by legal counsel, and understand how legal analysis impacts business decisions. We discussed the details of 58 cases and referred to many others throughout the semester. The number of guest speakers we've met in this course is truly amazing. On the list are two judges and eleven legal experts in litigation, transactional law, intellectual property, insurance, and other areas of business law.
Hon. Daniel J. Anders, Philadelphia Court of Common Pleas – Supervising Judge, Civil Division
Hon. L. Felipe Restrepo, United States Court of Appeals for the Third Circuit
Taylor Bartholomew, Esq., Troutman Pepper LLP
Christopher Chuff, Esq., Troutman Pepper LLP
Noah Robbins, Esq., Ballard Spahr LLP
Shannon Farmer, Esq., Ballard Spahr LLP
Tracey Diamond, Esq., Troutman Pepper LLP
Jennifer Mathis, Esq., Troutman Pepper LLP
Lisa Mathewson, Esq., Mathewson Law LLC
Gerard Dever, Esq., Fine Kaplan & Black, R.P.C.
Steve Ferenchick, Esq., Incyte
Beth Parker, Esq., Unisys
Santhia Curtis, Esq., Armor Correctional
LAWM 5280 Final Exam Preparation
April 15 to 19, 2022 - Review all thirteen recorded lectures. 32 hours.
The textbook is divided into the following chapters, but we jumped around a lot each week, so I re-read by class assignment rather than by chapter to maintain class flow. RTFTA!
Chapter 1: Introduction to Law
Chapter 2: Dispute Resolution
Chapter 3: Business Forms
Chapter 4: Contracts
Chapter 5: Uniform Commercial Code Article 2
Chapter 6: Creditor-Debtor Issues
Chapter 7: Torts
Chapter 8: Intellectual Property
Chapter 9: Agency
Chapter 10: Employment
Chapter 11: Business Relationships
Chapter 12: Regulatory Regimes
Chapter 13: Criminal Law
April 20, 2022 - Re-read Class 1: Introduction:  US legal system; jurisdiction; phases of a civil lawsuit; ADR. Chevron v. Natural Resources Defense Council (1984), Intl Shoe v. Washington (1945), Asahi v. Superior Court California (1987), Mayo v. Satan (1971), Aloft v. Unite Here (2017). 4 textbook cases, 1 supplemental case. 95 pp.
April 21, 2022 - Re-read Class 2: Contracts:  types; elements of a contract; formation; promissory estoppel; capacity; legality. Leonard v. PepsiCo (1999), Pena v. Fox (2015), Hamer v. Sidway (1891), Dyer v. National By-Products (1986), Crabtree v. Elizabeth Arden (1953), Pepper Hamilton v. Omega (2018). 5 textbook cases, 2 supplemental cases. 90 pp.
April 22, 2022 - Re-read Class 3: Contracts:  discharge; remedies; implied covenant; third-party rights. Johnson v. Murphy (2021), Abry v. F&W (2006). 2 textbook cases, 1 supplemental case. 97 pp.
April 22, 2022 - Re-read Class 4: Business Organizations (Part I):  intro to types of business organizations; corporations (formation; stockholders; directors and officers; fiduciary duties). Guth v. Loft (1939), Orman v. Cullman (2002). 1 textbook case, 1 supplemental case. 40 pp.
April 22 to 23, 2022 - Re-read Class 5: Business Organizations (Part II):  LLCs; partnerships; sole proprietorships; franchises; investor protection (information rights; litigation). Carlson v. Brabham (2016), Edever v. Gursky (2007), Schnatter v. Papa John's (2018). 2 textbook cases, 1 supplemental case. 88 pp.
April 23 to 24, 2022 - Re-read Class 6: Property and Intellectual Property:  trade secrets, patents; trademarks; copyrights. VMG Salsoul v. Ciccone (2016), Fleischer v. A.V.E.L.A (2011), Authors Guild v. Google (2015), Abercrombie & Fitch v. Hunting World (1999), Mattel v. Walking Mountain (2003), New Kids On the Block v. News American (1992), O'Reilley v. Morse (1854), Diamond v. Chakrabarty (1980), Bowman v. Monsanto (2013), Traffix Devices v. Marketing Displays (2000), U.S. Patent and Trademark Office v. Booking.com (2020), Christopher M's Hand Poured Fudge v. Hennon (1997). 11 textbook cases, 1 supplemental case. 121 pp.
April 24, 2022 - Re-read Class 7: Employment Law (Part I): employment discrimination and harassment (including Title VII, ADEA, PDA); ADA. Edgewater Motels v. Gatske (1979), Fisher v. U.Texas (2016), Quadrant v. Menasha (2010), appeal (2011). 2 textbook cases, 1 supplemental case. 74 pp.
April 24, 2022 - Re-read Class 8: Employment Law (Part II): at will employment; more on federal statutes affecting employment (FMLA, FLSA); labor law and collective bargaining; principal/agent; employee/employer/independent contractor; other statutes affecting employment (e.g., OSH Act); employee privacy. Oncale v. Sundowner (1998), Desert Palace v. Costa (2003), Morriss v. BNSF (2015). 3 textbook cases, 1 supplemental case. 76 pp.
April 25, 2022 - Re-read Class 9: Business Transactions and Securities: mergers and acquisitions (structures and processes); litigation arising from mergers and acquisitions; federal securities laws and securities litigation. Affiliated Ute Citizens v. US (1972), Salman v. US (2016), Fan v. StoneMor (2019), SEC v. Clark (2020). 3 textbook cases, 1 supplemental case. 26 pp.
April 25, 2022 - Re-read Class 10: Insurance, Negligence, Strict Liability, Warranties, Products Liability. Palsgraf v. Long Island RR (1928), Arbogast v. A.W. Chesterton Co. (2016), Puckett v. The Plastics Group (2014), RJ Reynolds Tobacco v. Sury (2013), Rix v. GM (1986). 5 textbook cases. 78 pp.
April 26, 2022 - Re-read Class 11: White Collar Criminal Law; FCPA; FCA; RICO. Mapp v. Ohio (1961), Fountain v. US (2004), NY Central & Hudson River RR Co. v. US (1909), Kelly v. US (2020), The Knit With v. Knitting Fever Inc. (2008). 3 textbook cases, 2 supplemental cases. 109 pp.
April 25 to 26, 2022 - Re-read Class 12: Bankruptcy; Administrative Law; Environmental Law Cybersecurity, Data Privacy. Seror v. Lopez (2015), Fund for Animals v. Rice (1996), Rapanos v. US (2006). 3 textbook cases. 53 pp.
April 26, 2022 - Re-read Class 13: Antitrust; Litigation Practicalities. US v. Paramount Pictures (1948), Dow v. Seegott (2014). 2 textbook cases. 1 supplemental case. 89 pp.
April 27 to 28, 2022 - Review slide decks, notes, and videos. 550 pp. 127 pp. 32 hours.
Total reading: 1,713 pages
Total watching: 64 hours
As you can see from the hellish amount of material above, it's the equivalent of three college courses. Some students waited on taking this course until the very end of their degree requirements. I felt that the material was so relevant to my studies that it had to be taken at the outset. I considered spending another day studying, but I don't think it would've improved my skillset much more, so I nonchalantly started my exam Thursday night.
April 28 to 29, 2021 - Final exam - A 24-hour open-book exam in which you may only use your textbook and notes. We had to select five out of six scenarios where each one could take two hours for a decent response. Our professor gave us a generous time allotment for flexibility. She emphasized that the exam was not about memorization of facts, but the application of legal rules. Each scenario contained explicit and hidden fact patterns that we had to uncover and respond to. The suggested completion time was four hours. I'm sure I could've completed the exam in four hours, but my answers would not have been as comprehensive if I did. My responses and analyses spanned over 6,000 words, equal to 30 bluebook pages or one and a half bluebooks. Just like my previous course, I've spoken to students who had trouble completing the exam on time. A number of us joked about how only a brilliant attorney, such as our professor, could complete the exam in four hours. My final grade: A+
The Law School's grading system consists of A, A-, B+, B, B-, C, and F grades, with a rare A+ awarded for distinguished performance.
LAWM 5290 Navigating the Regulatory State - Fall 2022 - This course examines the fundamentals of administrative law. Administrative agencies formulate rules and regulations that dramatically impact American life. Are these agencies a practical necessity in today's complex world or are they an increasingly inappropriate delegation of decision-making? By the end of the term, you will have an opinion on this question - an opinion that will be informed by a detailed examination of the purpose of administrative agencies, the ways in which these agencies are created and structured, the processes they follow when they act, and the political and judicial controls to which they are subjected.
September 8, 2022 -
Courses in my forecast:
LAWM 5150 Contracts and Negotiations (Spring 2023)
LAWM 5360 US Legal Research (Summer 2023)

LAWM 5220 Corporate Compliance (Fall 2023)
LAWM 5760 Patent Law (Spring 2024)
LAW 5070 Intro to Intellectual Property Law and Policy (JD course, Spring 2024)

LAWM 6210 Copyright Law

LAW 5250 Entrepreneurship Law
Graduation goal: Win the prestigious "Matt Parker Award for excellence in the ML Program"
Music Business-Related Questions and Answers
Disclaimer: The following are my opinions to specific questions and may not apply to you. They are not a substitute for your own legal counsel, so please refer to a practicing attorney for advice that applies to your specific situation.
Q:

I always DJ family events for free. My nephew is getting married and told me business and pleasure do not mix. He wanted me to charge him. I never charged a family member before. What do you guys think? I will have to DJ for six hours and he wanted me to charge him for that. I love my nephew, but I don't know what to do. Any suggestions

?
A:

Taking a family member's money for any service is bound to cause headaches in the near future. If you take his money, you are now liable for specific performance of contract, which means if he doesn't like your services, he can sue to get his money back, which would surely cause a dent in your relationship with him.

It's best not to take his money and if you did, give it back to the newlyweds as a wedding gift. [January 4, 2022]
| | |
| --- | --- |
| Q: | I have this idea for a new mixing style that I'd like to copyright. |
| | |
| --- | --- |
| A: | Copyrights are for works. Patents are for inventions. You cannot copyright ideas or recipes, but you can copyright books with recipes. You cannot patent ideas, only actual inventions. [December 22, 2021] |
| | |
| --- | --- |
| Q: | I am the DJ of an online Zoom party where one of my patrons has filed a complaint against me because another patron was harassing him. Am I responsible for the harasser's actions? |
| | |
| --- | --- |
| A: | Any jury would consider what a reasonable person would do in this case. If the party has a large number of people and the DJ has duties to play music for the entertainment of his or her listeners, then it is not reasonable to assume that the DJ can both play music and address harassment issues concurrently. In a physical bar or club situation, harassers are dealt with by a separate security or "bounce" staff. If the online party is not password-protected, then it is an open, public forum much like a street performance in a park and should not be subject to the same litigation as a private entity. Harassment can be dealt with in a reasonable manner when the performer has the fleeting moments of time to address the issue, however, there is always be an assumption of risk when stepping into a public space. If the online party is designated as a "safe space" and is gateway protected by a password or monetary compensation, such as a cover charge, then the DJ and organizer owe a higher level duty of care to their patrons. To mitigate future harassment in all situations, the DJ and organizer of the party can block offending patrons or place everyone in a waiting room at the outset. [March 18, 2022] |
| | |
| --- | --- |
| Q: | Did Jessie J copy Loomis and the Lusts' "Bright Red Chords" in her song "Domino"? |
A:

The verse feels similar, but it's not really the same. If you listen to the comparison video where Loomis and the Lust place their words on top of Jessie J's music, then it fits, but you can do that with many, many songs. This goes back to the argument I made in a law school class where I stated that "there are only so many good combinations of notes before we get too many lawsuits." So, here, the notes may not be the same, but the style - the way it was sung - of that verse is similar. However, the same can be said for how Katie Perry sings; Jesse J has been accused of making this song sound like a Katie Perry song. Is Katie suing Jessie for that? No, because if everyone sued everyone else for a similar musical style, there would be too many lawsuits and everyone would be afraid of releasing new music. But here... there wasn't even an imitation of a musical style of the entire, or major part of, the original song, just a verse and not even a verse. The judge will likely write it like this, throw the case out, and say that the accusations are baseless.

A defendant can also backdate their work into the public domain. They can say that, yes, I copied you, but you copied this person who copied this person and so on. [April 13, 2022]
Miscellaneous Questions and Answers
Disclaimer: The following are my opinions to specific questions and may not apply to you. They are not a substitute for your own legal counsel, so please refer to a practicing attorney for advice that applies to your specific situation.
Q:

I brought my car into my dealership for service to replace a flat tire. The dealer told me these were run-flat tires, but it turns out they really weren't, so when I drove my car to

my dealership, maintenance noticed that my wheel took significant damage from the drive. What should I do?
A:

Promissory estoppel is a legal principle that states that a promise is enforceable by law when a party who relies on that promise suffers related detriment.

The promise can be oral. You bear the burden of proof as you try to recount exactly what the dealer said when he sold you your car. Are the run-flat tires listed on the invoice of your car? [That is usually the detailed listing of everything in the car, including estimated pricing of all items.] If so, that is your proof right there. A good dealership that wants your future business will let you settle your dispute with them out of court by covering the repairs. [December 16, 2021]
On a popular neighborhood watch site, I responded to the following scenario from Sarah (name changed to protect her identity):
Q:

Norma who lives at 1234 XYZ Street (name and address changed), street level unit, told me when I walked by with my dog that she would be putting poison out in front of her residence. She said this as a promise and threat because my dog sniffed the grass in front on the sidewalk (my dog did not pee). Be cautious when walking by with your pets - Norma seems unhinged.

Several neighbors recommended police investigation.
A:

From a legal perspective, technically Norma gave you (and probably others) a warning and if you violate that, then you're at fault for trespassing. However, using poison is illegal, so if your dog did sniff or eat the grass and got poisoned and got sick or died from it, you'd be well within your rights to sue and get damages (but nothing can replace a doggy!). An investigation could happen concerning the threat, but it's unlikely to yield anything as Norma can just deny she ever used any poison in the first place and she might be just saying that to keep people off her grass. But.... her warning is not just a warning, but a threat. Sadly, a threat can't be used against her because it's just words at this point with no definite actions. Norma could just as well say, "I'm going to kill your dog" and sadly there has to be more than just words to have an enforceable action.

A fellow neighbor responded, "The front of 1234 XYZ Street is all public sidewalk and I'm pretty sure there are plenty of instances where threats can be crimes."

Possibly, but Norma needs to do more than just say words. If she was on the public sidewalk saying this to Sarah, then it can more likely be considered a threat, but if she was within the bounds of her property saying this, she could use, as a defense, that she's trying to warn others not to trespass her property. Really, all she needed to do was put up a sign that says "Keep Off the Grass" and be more polite to Sarah, but people have their reasons for being jerks.

A fellow neighbor responded, "Technically, the sidewalk and any tree wells or patches of grass adjacent to the street are public property."

In Google street view (not sure if 1234 is on the north or south side of XYZ Street), if the residence has gates in front and Norma's trying to protect her property (the little grass lawn), anything inside the gate is within her rights to protect. If the residence is on the opposite side of the street where there's no lawn to protect, then anything outside her doorstep is indeed public property. But, agreed, poison is too extreme a measure to protect a property. However, I just had a friend ask me what they should do about their neighbor who is having a monthly person come in to spray their lawn with pesticide, which happens to be poisonous and bad for not just the bad insects, but the good ones, too. The pesticide affects my friend's garden, not just with plant growth but also harms the good bugs... as well as pollutes the air she breathes and enjoys. That would be considered a nuisance and a trespass and she would most likely win against her neighbor. Back to our scenario... as a defense, and I know this is really terrible if she did this, Norma could say that she simply had pesticide sprayed on her lawn to kill bugs. You could say, yeah, but you threatened me and my dog with it. And she could say, well, it was just a warning because I considered the welfare of your doggy; that's why I "warned" you. You can see where this could be an all-out battle.

A fellow neighbor noted that Norma's threats are in violation of state law PA Title 3 Section 459-601.

The problem is proving that Norma threatened Sarah. Were there witnesses? Is Sarah just going to use her rant on a forum to prove that she was threatened by Norma? Is it worth pursuing legal action over something that could be solved simply by avoiding Norma's residence? Norma might know some pretty important people who can prove that she's a fine upstanding citizen and now Sarah has more chips stacked against her. Sometimes you have to pick your battles and not assume everything will go your way. [May 18, 2022]
Things That Bug The Shi*t Out of Me
Disclaimer: The following are situations that make me question why there are no policies in place to prevent them.
| | |
| --- | --- |
| ■ | A number of insurance lawsuits have the insured filing lawsuits against insurers for coverage they feel entitled to even though these people filed their insurance claims past the last day they could file their claims. Whether you are 3 days late or 438 days late, you must report your claim in a timely manner, otherwise your insurance company doesn't have an obligation to cover you! [March 21, 2022] |
| | |
| --- | --- |
| ■ | Various companies file for insurance claims but policies get rescinded because of misrepresentation on prior claim forms. These companies waste their time and energy on litigation when a company database or access to a database with the lawsuit information could've prevented the need for costly litigation in the first place. [March 21, 2022] |