Cruise to the Bahamas 2019
In November 2019, my sons and I went on a seven-day cruise to Orlando, Perfect Day at Coco Cay, and Nassau on the Grandeur of the Seas.
Our ship was very nice, better than the Carnival Pride my oldest son and I were on in 2016. It was a Deluxe Oceanview room with a large window and spacious accommodations. I had several surprises in store for my sons, including Royal Caribbean beach towels and an octopus doll for my youngest son. There were several onboard shows, including three music shows, one headed by Aaron MacKenzie of Jersey Boys, a magic show by Chris Dugdale, who appeared on Penn & Teller's Fool Us!, and comedian Billy Garan. Throughout the ship, there were smaller magic shows, demonstrations, art auctions, bingo games, dance parties, and more. The upper deck included shuffleboard, an arcade, and a rock climbing wall.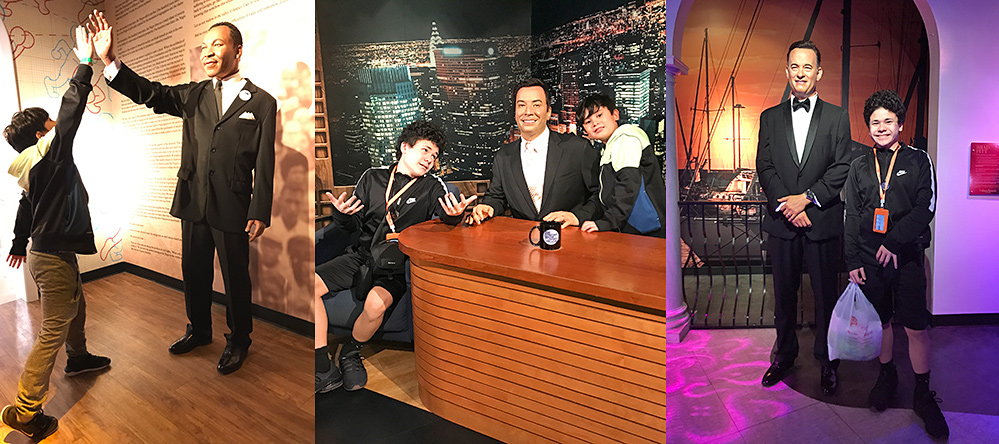 On our first excursion day, we took a shuttle bus to Orlando's Icon Park where we visited Sea Life Aquarium, Madam Toussaud's Wax Museum, and the Starflyer. The Starflyer is the world's tallest swing ride. Can you imagine swinging 450 feet up in the air at 60 miles per hour?

Our second excursion day was at Perfect Day at Coco Cay. Yes, the island is actually called that! We played in the waterpark where we all rode on North America's tallest water slide at 135 feet high. It was awesome! We also checked out the man-made lagoon and beach where we saw beautiful fish of all varieties. The snack food provided was outstanding. Our day was truly perfect. On our third and last excursion day, we rode in an M700 jetboat with a turbo hydro jet engine. The deranged captain and his first mate demonstrated power drifting, 360 degree spinning, and power breaking. We were all soaking wet in the end and had lots of fun!

I enrolled my sons in a sushi making class on the next to last sea day. They thoroughly enjoyed the experience of crafting their own sushi rolls and shrimp nigiri. We ate at Chop's Grill, the onboard high-end steakhouse, on the last remaining sea day. We enjoyed some wonderful colossal shrimp, charred beef carpaccio, iceberg wedge salad, mushroom soup, filet mignon, and decadent desserts. There were three specialty restaurants, including Chop's Grill, Giovanni's Italian, and Izumi Japanese. The food that was a standard part of the cruise experience in the cafeteria and dining room was outstanding. We ate like royalty every day and met some new friends. They were Indian and the wonderful thing was part of the kitchen staff was, too, so every day we were treated to a special Indian dish made just for us. On the final evening, the crew provided us with several celebrations, including music, dancing, and a cake-cutting ceremony.
We thought Carnival was good, but Royal Caribbean beats them by a long shot.
Follow our entire cruise adventure on YouTube and subscribe to my channel!