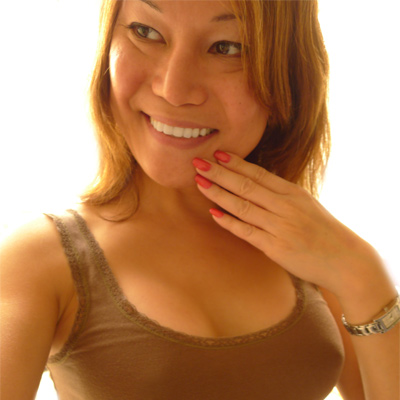 Over the years, people have asked me for makeup tips, so here are some useful bits of advice.
Eyes
False eyelashes look great in photo shoots, but not so much in everyday situations. To get really long lashes, I recommend Maybelline's Colossal Volume Express Mascara. I use this mascara myself.
After every eye makeup application, clean all of your brushes with soap and water and wipe all of your applicator tips with a lint-free cloth. The eyes are an especially sensitive part of your body and should be treated like gold.
Frustrated with eye pencil sharpeners? You needn't be. Either buy the more expensive brands of eye pencils that have the necessary oils and chemicals to maintain a break-free pointed tip or stay away from eye pencils that need to be sharpened. Several manufacturers, such as L'Oreal and Revlon, make automatic "self-sharpening" eye (and lip) pencils that enable you to get a new tip by twisting the barrel of the pencil. To get a really precise tip, angle the tip and gently scrape away on the surface of a paper towel rotating the tip as you go.
The easiest way to improve your facial appearance is to shape your eyebrows. I recommend this for both men and women. A pair of neat, well-defined eyebrows that suit your face will do a lot to improve your appearance and your confidence which, in turn, can improve your chances for success in both business and professional matters. Start by removing all stray hairs that cover your eyelids as a first pass. Then remove one row of eyebrow hair at the bottom of each brow in the second pass a few days later. Remove another row a few days later, but take care not to remove too much.
Lips
If you have naturally dark, thick lips, you don't need to wear lipstick. Use a sheer lip gloss to accentuate the natural lip color you already have. Try a scented lip gloss like Maybelline Baby Lips.
If you have thin lips, apply lip liner above the top lip and slightly below the bottom lip. Experiment to see how far you can go outside of your natural lip line before you end up looking like Tammi Faye Baker. Emphasize the "heart" of your upper lip by drawing curved rather than angled lip lines. Practice drawing hearts on paper before you practice on your face.
Add a little shine to your color collection by applying a gloss lipstick on top of a familiar shade. You can also experiment by combining two or three shades to create a brand new shade.
Nails
Solid colors are nice and classic-looking, but girls who like to experiment will go for the wacky, far out colors like chromes, glitters, or airbrush designs. With a little creativity, you can create your own interesting color combinations and designs. There are many different nail polish manufacturers, but I feel the best one is OPI. It's more expensive than your average nail polish, but the quality is so much better with OPI than other brands.
Photo Tips
Always wear your makeup heavier for a photo shoot. Some cameras and lights have a tendency to mute colors and soften lines, so you need to compensate for this by making your makeup appear more dramatic. A skilled photo editor can always desaturate colors more easily than saturate them. I always make my eyeliner about twice as thick for a photo shoot, but it all depends on the look you're trying to achieve. You can look great in real-life, but terrible in photos if your makeup isn't "calibrated" for photos.
There are two major picture categories: snapshots and glamour pictures. Snapshots are usually considered "unprofessional-looking" because they contain artifacts, background noise, and miscellaneous objects that distract the viewer from the true subject of the picture. Glamour pictures are usually professionally done or have a professional appearance about them because they contain proper lighting, background, placement, and focus. One trick professional photographers use to emphasize a subject sitting in front of a busy background is to blur out the background. This tricks the eye into concentrating on the subject that is in focus.
You can create some really awesome effects by wearing very bright or shiny colors underneath bright lights. Overexpose the picture a little to lessen the appearance of wrinkles or lines. Some Photoshop knowledge will really help you bring out the best in any picture.