May 25, 2014, 9:00am - class 101 with Sandy Robin - Sandy let Boryana demonstrate a great Standing Head to Knee Pose and Thayne demonstrate a perfect Standing Bow. I'm nowhere near their level yet, perhaps not even after another 100 classes. After class, I spoke to Thayne, the instructor of the Advanced Class and asked her how I would know if I'm ready for her class. "My Standing Bow and Standing Head to Knee aren't that good," I said. "The Advanced Class will help make you better in the Beginner Class," she said. She encouraged me to come to her Sunday summer classes so she could evaluate how ready I am for her Advanced Class. "Is it true that you go through all 84 Hatha Yoga postures?" I asked. "Not all of them. It depends on the level of the class. Sometimes we do more, sometimes less," she said. I've always admired Thayne's long and lean body, which seems perfectly suited for ballet and Bikram Yoga. By contrast, my upper body is also long and lean, but my lower body isn't and I have flat feet. This severely limits my flexibility in certain exercises, but I've managed to work around or through the pain caused by my limitations in most cases. My bruises and calluses on my knees and insteps prove this.
May 27, 2014, 7:00am - class 102 with Stella Rose - Stella is becoming one of my favorite instructors at the studio. I like how she explains the technical details of each posture and how each posture can help you. I also like how she is quick to demonstrate how a posture should look in front of class. I heard a chiropractic *pop* in my spine when I was doing Cobra Pose. It didn't hurt, so hopefully this is a good thing. After class, a woman named Dorothy introduced herself to me. She's a raw foods chef from Nashville who has been practicing Bikram Yoga for over 12 years. I noticed in class that she held an excellent Standing Head to Knee. I was fascinated by the concept of cooking at temperatures no greater than 118 degrees. "What can you cook in under 118 degrees?" I asked. "Everything!" Dorothy said with resounding enthusiasm. She mentioned delicious-sounding veggie variants of some of my favorite foods, including lasagna and samosas. "You can make lasagna noodles out of thinly sliced zucchini and samosa wrappers from dehydrated zucchini and flax meal," she said.
May 28, 2014, 6:00am - class 103 with Sandy Robin - I lost focus during Awkward Pose and my Standing Bow was terrible. I failed Sandy today. I need to relearn how to concentrate on my practice and filter out life's worries when I'm at the studio. Dorothy and I spoke again after class. She told me that I reminded her of a Clare she knew back in California. "You have the same body that she does... long and lean!" Dorothy said. "Was she good at Bikram?" I asked. "Oh, she was awesome! In fact, she was pregnant and did Bikram even up until the day she gave birth," she said. She said that one of Clare's instructors recognized her baby's sounds emanating from her Pranayama breathing while she was pregnant. Whoa!!!
May 30, 2014, 8:00am - class 104 with Malea Diehl - "Nice, Clare!" Malea remarked of my Cobra Pose. Although I felt good doing my Cobra, I felt achy doing my backbend after Half Moon earlier in my workout.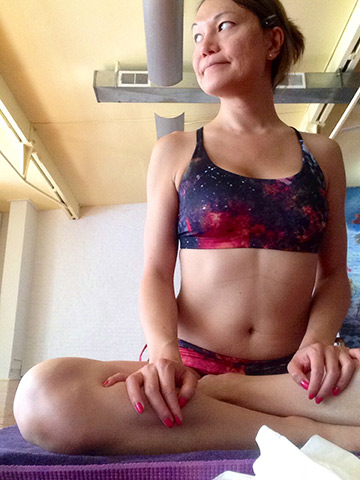 May 31, 2014, 9:00am - class 105 with Alex Meer - A good weekend class with Alex whose hands-on instruction and philosophy reminds me a lot of Joel. She even curses like Joel! I like that Alex opened the doors on both sides of the room to cool down a sometimes devastatingly hot room on weekends. My Standing Bow still sucks. I feel I have a much better shot at mastering Standing Head to Knee than I ever will with Standing Bow.
June 1, 2014, 9:00am - class 106 with Thayne Dibble - When Thayne stepped into the studio this morning, a girl to my right immediately smiled and said to her friend, "Wow, Thayne's teaching class! This is going to be good!" Thayne was the instructor of my very first Bikram class and while she is certainly very approachable and a fount of Bikram knowledge, I also find myself rather intimidated by how good she is in her practice. She is frequently used to demonstrate what a perfect Standing Bow is supposed to look like. For someone who has never done a leg split in her life, it can be both inspirational yet frustrating to watch this perfect physical specimen do what few can do. Thayne complimented me on my first part of Awkward Pose and after class gave me her blessing to attend her Advanced Class. "The poses in my Advanced Class will definitely help you in the Beginner's Class," she said. My first class will be in two weeks.
June 2, 2014, 6:00am - class 107 with Emily Jane - Today I slowed down, concentrated on my balance, and did a better Standing Bow than in previous days. It'll probably take me a lifetime to develop a good Standing Bow. It's time for me to review Bikram's books again. I'm taking a Coursera course on Vital Signs to help me understand a bit more about how the body works, especially during exercise. Emily helped a number of newbies with their poses.
June 3, 2014, 7:00am - class 108 with Stella Rose - I've been holding my hands in prayer and sitting lower in Eagle Pose for the past few days. Alex encouraged us to do this last Saturday. I'm not going to be great at every pose, so I may as well perfect the ones I'm good at. Another good day for Standing Bow. I held it better than in recent days. I basically said, "I believe in you," to myself in the mirror. I like how Stella paces her classes. She talks non-stop, which keeps my mind going. She's like a younger Chris Fluck, but with a style all her own.
June 4, 2014, 6:00am - class 109 with Emily Jane - Emily subbed for Sandy today whom I discovered was out for a medical reason. I dedicated today's workout to Sandy and imagined how hard she'd push me to be better than I am every time I'm in her class.
June 5, 2014, 11:00am - class 110 with Leo Eisenstein - Leo's class is all about self-empowerment. Similar to my first class with him, there wasn't any physical posture correction. You're kind of on your own. A tap on a body part that's out of place a la Chris Fluck or Thayne Dibble or a grab and move this joint here for best effect a la Sandy or Joel makes the Bikram class feel more practical and personal. To Leo's credit, his dialog is really good. He tells funny stories and keeps you engaged. Less than three months away from the Bikram Yoga Ayurvedic Retreat. Hope I can improve my standing series postures by then.
June 6, 2014, 8:00am - class 111 with Katelynn Ingersoll - Katelynn taught today's class and, next to Noelle, has one of the most soothing voices I've ever heard. Students from her 6:00am class were raving about how good it was. Everyone in my class was trying to get a mirror row. There's something about an instructor's gaze that forces me to perform better. Most of the instructors at this studio watch over their students like hawks. Katelynn liked the first part of my Awkward Pose so I think that this is one of my better poses. I feel like I'm getting good at Eagle, too. Three guys and a girl came to class as a group. "That's so cool," Katelynn remarked, "because when I was going to classes, I couldn't pay three of my friends enough to come along." I re-watched a YouTube video of one of my Bikram inspirations, Noa Glouberman.
June 7, 2014, 9:00am - class 112 with Joel Pier - A couple of my friends remarked that I must be a masochist for immersing myself in a torturous situation almost every day, but I see what I do as building character, focus, and stamina. There are many ways of building these traits, perhaps with less intensity, but I see this method as being a good way of kicking your own ass to get yourself into shape quickly. Some of the people around me moan and complain about their pain in class. "If you're feeling pain, that's good. This yoga won't make you feel good during class. It'll make you feel good after class," Joel assured. Proof of this is all of the people who keep coming back for more, especially one of Joel's students who has been practicing Bikram Yoga for 17 years.
June 9, 2014, 6:00am - class 113 with Andrew Cookson - Sandy is still out, so Andrew Cookson subbed for her today. Andrew gives a very cookie-cutter Bikram class with no posture corrections. I live for the posture corrections because I know there's always something I can do better in each practice. Ajay brought in a get-well card for Sandy and got all of Sandy's students to sign it. She mentioned that Sandy might be out for a while.
June 10, 2014, 7:00am - class 114 with Stella Rose - Stella ran another nice class today with a lot of technical details and non-stop dialog to keep my mind immersed in the postures. Sometimes my mind drifts when I'm trying to hold a posture because I'm thinking about food. I wonder if other students experience the same thing.
June 11, 2014, 6:00am - class 115 with Justin Riley - Justin's fast-paced bootcamp style workout was pretty intense and left me feeling fatigued during the floor series. I'm not a fan of this style of class because it offers few posture corrections and very little rest between postures. His physique is inspiring, though, because he has the body of a lean, muscular Indian yogi.
June 12, 2014, 6:00am - class 116 with Noelle Burgoyne - It's been three weeks since I took a class with Noelle. A window installation in my condo and a parent-teachers meeting took up my last two Thursday mornings. I've missed Noelle's relaxed pace and encouraging words. She praised me for getting my hands together in Toe Stand and encouraged me to straighten my back more next time. I never noticed this before, but when she walked by me today, I noticed her lower spine had some exceptional muscle definition. Why do we kill ourselves in Bikram every day? To develop a great spine like this. Why do we care about having a great spine? Because a great spine signifies great health. My right shoulder blade has been feeling wonky lately, so I need to see my chiropractor about it. I'm curious to see how my spine compares to my last visit with him a year ago.
June 13, 2014, 8:00am - class 117 with Malea Diehl - Something tragic happened to me recently. I tried to keep my chin up. Class was held in the large studio and Malea was very entertaining, but even her fun, relaxed style couldn't help me. I stopped in the middle of class during the floor series, lying on my stomach and crying into my towel. I felt like I was suffocating. In a very uncharacteristic move, I left the studio to recover. Malea came out and asked me if I was all right. She got me a big bottle of water. I held it to my body and cried for several minutes and missed five postures. I sat with my head in between my legs for several moments. I calmed myself down. Why do we do yoga? To create an unbreakable mind, body, and soul. With the indomitable will I'm known for, I wiped away my tears and held my head up high. I walked back into class with a smile and several of my classmates responded by smiling back. I continued class with the strength of a Bengal Tiger. After final Savasana with students leaving one by one and a new class of students filtering in, I continued and finished all of the postures I missed. Although my heart was broken, nothing will break my spirit. After yoga, I went to see my chiropractor. He did an x-ray of my neck and said my spine looks a lot better now than a year ago. "The space between your fourth and fifth vertabrae really opened up," he noted. He praised the benefits of Bikram Yoga for spinal improvement.
June 14, 2014, 9:00am - class 118 with Emily Jane - Emily's class felt better than in previous times because she slowed her pace down. It was hot and humid in the large studio, but I survived it. Thayne, the instructor of the Advanced Class I'll be attending tomorrow, was right behind me! That was added incentive to get through the workout as well as I could. Am I ready for her class? We'll find out tomorrow.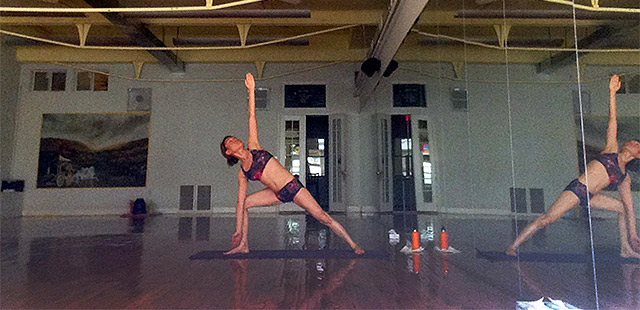 June 15, 2014, 1:00pm - class 119 with Katelynn Ingersoll - Katelynn led the Advanced Class today. "Just take it easy and slow. I can't even do all of the postures perfectly," she said, "and if you need to take a break, just do so." The two-hour 84-posture class was fast paced and required the kind of strength and flexibility that I didn't yet possess. At several points, I thought to myself, "Wow, I really jumped into the fire with this one!" The myriad of hand and finger stand poses were frustratingly difficult for me. Some of the postures required me to do leg splits, which I'm not able to do yet. There were a handful of postures outside of the Beginner's series that I could do, so all was not lost. "You did great for your first class!" Katelynn said to me afterwards. The class made me feel like I was starting Bikram Yoga all over again.
June 17, 2014, 7:00am - class 120 with Emily Jane - I was too exhausted and sore to go to class yesterday. That really sucked. I read more about preparing for the Advanced Class. Apparently, the preferred way to prepare for it is to take the Beginner's Class immediately before it to warm up your body. Yikes! I would've had no energy for the Advanced Class by then. Emily is getting really good. She's stopping to help people correct their postures. All she needs to do is give more encouraging feedback to people. I believe occasional, well-placed compliments can sometimes help people push themselves a bit further in their practices. I know I don't always deserve the compliments I receive, but they've actually helped me push myself harder so that I feel I actually deserved them. I had a terrible hangover this morning from last night's cocktails, but the feeling subsided once I got into the floor series. I ate too much in the past few days and the gluttony has taken its toll on my belly. My friend Chris was impressed with how lean and muscular I've become.
June 18, 2014, 6:00am - class 121 with Justin Riley - Justin's class included descriptive dialog and a better pace than last week. He also helped posture correct a number of students, including me. I like that. He also praised a couple of hard-working students. Excellent!
June 19, 2014, 7:00am - class 122 with Noelle Burgoyne - Thayne stood right behind me again in Noelle's class. I see this as a good thing because it forces me to do better and allows me to see how a posture is supposed to be done by an experienced teacher. I've been holding some of my poses an extra five to ten seconds beyond the end of the instructor's count so I can get more out of each 90 minute class.
June 20, 2014, 6:00am - class 123 with Katelynn Ingersoll - Can I bend backwards even further by straightening out my arms and lifting from my chest? In my insistence on bending backwards from my lower spine, Noelle and Katelynn both pointed out that I should be bending more from my upper back. The writings of Mary Jarvis confirm this where she says, "Lift your breastbone up as you go down into it, instead of jamming only the lower waistband spine. You HAVE to have your elbows pressing IN, not bowing out before you go down. Also, LIFT the front of the neck and shoulders and armpits before you drop down.Then you lift UP, OUT, and OVER your waistband spine so you do not get that crimping feeling."
June 23, 2014, 6:00am - class 124 with Sandy Robin - My favorite Bikram instructor, Sandy Robin, returned from her medical leave and I'm glad to see she's doing well and looking great. "When I was sitting in my hospital bed watching TV, I saw a yoga program and was appalled to see a student answer a cell phone call and leave class because of it. No cell phones in this class. We have to protect our yoga," she advised the class. Everyone agreed. She went right back into posture correcting students, fixing my Wind Removing Pose, Locust Pose, and Camel Pose as if she had never left. I lost a little steam after Camel Pose. I thought I was doing it right for the past month, but my hips weren't pushed forward far enough. Argh. I did my first tanning session in over a year. I want to look great this summer.
June 25, 2014, 5:30pm - class 125 with Emily Jane - I know I've made very nice gains over the entire duration of my Bikram practices, but I feel I've hit a ceiling in the last fifty classes or so. Is it my mind playing tricks on me, as Bikram says in his books, or did I reach my physical limits? On occasion, I still feel naseous and fatigued by the heat and humidity. You would think I would've completedly conquered the heat by now. I'm glad Sandy's back. I need her classes. She pushes me hard and I like that. In the beginning, I was doing everything wrong and she let me know it but also showed me how to fix what was wrong. I believe she cared so much about my well-being because she saw my dedication. For six months, I attended class an average of five times a week. I braved all kinds of weather to get to the studio in time for 6:00am class. About 40% of my classes were taught by this incredible teacher, so she has been my greatest influence.
June 28, 2014, 11:00am - class 126 with Sandy Robin - So tired. I wiped out after Standing Separate Leg Head to Knee. A shame because Toe Stand is easy. I did one set of Cobra, Locust, and Bow. I couldn't bend in Camel. A terrible, terrible workout. Sandy must've been disappointed with me.
June 29, 2014, 9:00am - class 127 with Sandy Robin - It was hotter today (110 degrees) than yesterday, but today's workout was better than yesterday's. Sandy complimented me today. Missing so many classes last week messed up my progress.
June 30, 2014, 6:00am - class 128 with Sandy Robin - Yes! I'm back to form and it feels good to be back. Sandy helped me with Eagle and Full Bow. I was the last survivor of Cobra. I have to keep myself from drinking too much water during class. For lunch, I made some delicious kitchari and added last night's leftover chicken and sweet corn.
July 1, 2014, 7:00am - class 129 with Stella Rose - A bout with last night's ham kitchari interrupted my workout today in Stella's class. I left for three poses but made up for them after class. I won't leave the studio without a complete workout.
July 2, 2014, 6:00am - class 130 with Sandy Robin - I asked the two senior instructors of my Bikram studio, Joel and Sandy, for recommendations for teacher training. Both said yes! "It would be my honor to write you a recommendation," Sandy said. "I've taken 40% of my classes with you, so I'm basically a product of yours (I was trying to say "I'm basically your protégé"), one of your girls. I will not fail you," I said. "I know you won't," Sandy replied. Although the Bikram web site asks for one recommendation, a second should strengthen my application because who knows if the requirements will change? There have already been many changes in the products that Bikram offers, such as the discontinuation of both the advanced seminars and the Bishnu Ghosh championships, so asking students to supply more than one recommendation as a future requirement is quite conceivable. Today I'm 127.6 pounds, the lowest I've weighed since 1990.
July 3, 2014, 7:00am - class 131 with Andrew Cookson - Andrew's teaching style is similar to a conductor. He recites the Bikram dialog while pacing back and forth in class with his finger pointed in the air. He then moves his arms like a maestro conducting a symphony orchestra as we all follow his lead. After one of the standing series postures, Andrew gives a useful tip we can all learn from. He posture-corrected one student and she was very happy.
July 4, 2014, 9:00am - class 132 with Sandy Robin - Feelings of nausea and dizziness overcame me during Cobra pose. My face went completely numb. Sandy and a couple of students near me asked me if I was okay. Not wanting to look weak, I nodded my head but held my face in my hands because it kept tingling. It felt intensely hot in the upper floor studio today and my body couldn't take it any more. I think it began shutting down. I left the hot room and entered the bathroom where I sat down for a few moments. My face was numb and I couldn't speak. I felt so hot. I lurched forward into the shower and blasted cold water on myself. I did this twice. Other women in the bathroom asked me if I was okay. It took about ten minutes for the use of my facial muscles to return. I sat in the hallway with a couple of others who were waiting for the next class to begin. I looked onward as the current class ended their Rabbit pose. I composed myself, got up, and entered the class to finish up what was left of the workout. After Final Savasana, as students were leaving and new students were entering for the next class, I did all of the poses I missed to the best of my ability. I know it's not the same as doing all of the poses in sequence, but it's something. Prized pupil, Boryana, was getting ready for her second back-to-back class. I have to keep reminding myself that my Bikram experience can be counted in months compared to others' experience in years.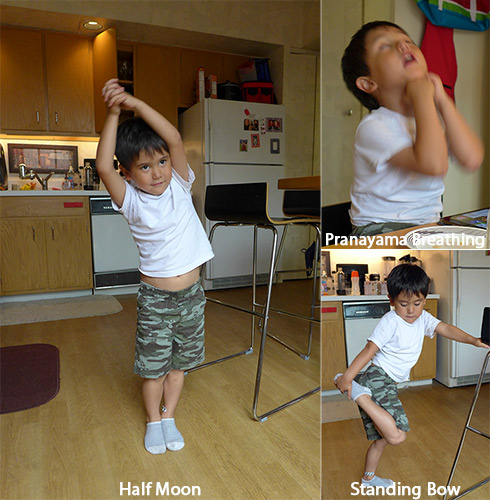 July 6, 2014, 9:00am - class 133 with Sandy Robin - A good, solid workout. I relaxed more today and let the yoga come to me rather than chase after the yoga. I stood near the window instead of the back of the room so it wouldn't feel so intensely hot. I smiled a lot more today than in recent classes. Hopefully, tomorrow will be a good day, too.
July 7, 2014, 6:00am - class 134 with Sandy Robin - Sandy helped me with my Half Moon and Locust poses. I need to lift my chest up more in Half Moon. For those of you who don't know, doing a perfect Half Moon is pretty damn hard. I'd rank it up there as the fifth most difficult pose next to Standing Head to Knee, Standing Bow, Camel, and Full Bow.
July 8, 2014, 7:00am - class 135 with Stella Rose - "It's not about balancing on your foot. It's about kicking and stretching," Stella advised me during Standing Bow. If I really stretch with all my might, I can get my back foot to appear over my head but then I'm fighting to maintain balance. Maybe another 100 classes will fix this.
July 9, 2014, 6:00am - class 136 with Sandy Robin - Another test of my faith came in the form of a muscle pull in my neck, but I worked through it as best I could. I did an okay back bend, but couldn't bend back in Camel. My four year old son has been going to yoga with me in the morning. He's been watching me and learning a few of the poses.
July 11, 2014, 6:00am - class 137 with Alex Meer - I continued to deal with the crick in my neck during Alex's class, but even still I wasn't entirely disabled. "That's awesome!" Alex commented of my Awkward Pose. During the floor series, she mentioned that she's been doing yoga for 14 years. "I'm not saying that to prove how good I am, because I'm not. I thought I was good," she said. "But weren't you a yoga champion?" I contested. "Well, yeah, but that was at a time when there was very little competition," she admitted. I liked how Alex quickly moved around the room, almost as if she were looking for bad postures to correct. That kept all of us on our toes.
July 12, 2014, 9:00am - class 138 with Joel Pier - Another sweltering hot class. Even Thayne commented to Joel on how hot it felt when she walked in. Opening the fire escape door and windows didn't help and placing myself close to the windows didn't help, either. It was so hot I had to leave class twice. The second time I felt my face tingling again. I didn't want to lose control of my facial muscles again like last week. That was scary. One of my classmates decided to continue her practice outside the hot room in the waiting area. I was tempted to do that, but I wanted to enter the hot room again to prove to myself that I could conquer the heat. I made up all of my missed poses after class. "I sucked today," I admitted to Joel. My recent failures don't exactly look good in class. As a future teacher, how can I expect my students to respect me if I can't stay in class the entire time? I know what's making me so tired, too. I really push myself in Eagle Pose. After Eagle, my heart feels as if it's going to shoot through my chest. Two poses later, I push myself in Standing Bow. My heart pounds some more. Then four more poses later, I try to kill myself in Standing Separate Leg Head to Knee. I'm dizzy by the time I hit Tree Pose. I might be pushing myself too hard too fast.
July 14, 2014, 6:00am - class 139 with Sandy Robin - Sandy pulled my shoulders back in Floor Bow, forced my arms and upper back to align better in Half Tortoise, and pushed my hips forward in Camel. My neck was still in a little pain from last week, but I worked through it. Better days ahead.
July 15, 2014, 7:00am - class 140 with Sandy Robin - Sandy taught class today, which was unexpected for me as I always see Tuesdays as a "cool-down" day after a rigorous Monday with Sandy. On Monday nights, I regularly eat lots and imbibe with a foodie friend and sometimes the alcohol headache can be a little much on Tuesday mornings. "There is no tomorrow!" I kept telling myself. There is no tomorrow. I have to admit, I've been quite obsessed with Bikram teacher training lately, to the point where I've been reading teacher trainee blogs and watching graduation videos. I know it's at least a year away, but I'm preparing for it in every possible way.
July 16, 2014, 6:00am - class 141 with Sandy Robin - If you take a spot in the first row, you have an unspoken, unwritten moral obligation to do every pose to the best of your ability and with every ounce of energy you have in you. You cannot and should not slack off because the people behind you are depending on you for inspiration. I said this about 70 classes ago. Ironically, Sandy said something very similar to this today and I made a synaptic connection between what she said and what Bikram said recently in his letter about discontinuing his advanced seminars and yoga championships: "Every Bikram teacher and practitioner, every Yoga teacher, every person needs to look in the mirror now too, and ask yourself really why are you doing it, what you came to Yoga for, and why.  Think about it very carefully." I came to yoga to better myself, to show that a scrawny, non-athletic kid who always got picked last in sports could make something of herself and inspire others with a raw determination and focus that few had. I have not been achieving that lately because I let so many distractions get the better of me. It's time I take my practice to a new level.
July 17, 2014, 7:00am - class 142 with Malea Diehl - I was pretty happy with my workout today. Malea corrected my alignment in Fixed Firm and gave me encouraging words in Awkward and Standing Bow. She also helped me with my standing postures by noting that we have similar feet types and recommending that I hug my foot on the towel a certain way rather than gripping the towel with my toes like I do. I found the strength to extend my leg in Standing Head to Knee again. I'm starting to see my toes creep up over my head in Standing Bow.
July 18, 2014, 8:00am - class 143 with Jane Collaso - Another good class today. It was my first class with instructor Jane Collaso. I liked how she demonstrated many of the postures as we were doing them in class. Later in the day, I went for an invigorating Ayurvedic oil massage performed by the folks at Half Moon Aurveda.
July 21, 2014, 6:00am - class 144 with Emily Jane - Class was good today. Somehow I managed to balance myself for the full duration of Standing Bow, but Emily's poses are certainly shorter in duration than Sandy's. I met another nice person in my class today, a young woman named Akudo who has been practicing Bikram for seven years. I'm continually inspired by the older yogis in my class who practice daily: Ajay, Dorothy, and many others from my Baby Boomer/early Gen X generation. Recently, I saw media clips of Emmy Cleaves and was quite inspired by her. It is all too easy to just look at pictures of someone Emmy's age and assume she must be more of a spokesperson and less of a practitioner, but then I saw pictures of Emmy demonstrating postures in her Advanced Bikram class and - holy moly - she is simply amazing. No wonder why everyone is in awe of her! I wish I could go to the Bikram Yoga Women's Retreat this year to practice under her and Rajashree.
July 22, 2014, 7:00am - class 145 with Emily Jane - "Nice one, Clare!" Emily commented on my Toe Stand. Yay! I balanced myself again for the full duration of Standing Bow. There were a couple of points in class where I felt winded, but I never gave up.
July 23, 2014, 6:00am - class 146 with Emily Jane - Another good class. I didn't need any water before Triangle. In fact, after Eagle, I didn't touch my water bottle until Savasana.
July 24, 2014, 7:00am - class 147 with Emily Jane - Same as yesterday. Just one water break after Eagle and one before Savasana. I did two Camels, but I didn't lift my leg in Standing Head to Knee. I had lunch with six other colleagues at my office. "Clare, you're in great shape. How much do you eat in a day?" one of them asked. "Two big meals," I replied, "but sometimes I do yogurt or granola cereal for breakfast. Try to limit your meat consumption to one meal a day and try to limit your bread consumption to one meal a deal. We don't need to eat so much meat and bread. Rice is a good substitute for bread, but eat some just once a day." Vegetables and soy products are your friends!
July 25, 2014, 8:00am - class 148 with James Pfeffer - I haven't had a class taught by James Pfeffer since January. I wish he had permanent classes at my studio because I'd be going to them all the time! James helped posture correct me and my classmate next to me on many occasions. I believe instructors call out what you're doing for any of the following reasons: 1) you're doing something obviously wrong and need to correct it right away, 2) you've almost got the posture right and a little adjustment will make it better, or 3) you look like you give a damn about what you're doing. The more experienced teachers can tell who gives a damn in their classes by their students' body language, that is, how they express their intentions using their muscles in combination with their facial expressions. Today was about correcting "the little things" as James pointed out on several of my postures. "You're getting good at this," he said.
July 28, 2014, 6:00am - class 149 with Sandy Robin - Sandy helped me with my Hands to Feet in Half Moon, Standing Separate Leg Stretching, and Wind Removing Poses. Today I looked pretty strong.
July 29, 2014, 7:00am - class 150 with Sandy Robin - Sandy helped me with my Cobra and Camel Poses. I couldn't hold Standing Bow or Toe Stand as long as yesterday. I ate a massive amount of protein last night in the form of a Porterhouse steak. I've made modest improvements since class 100. I can touch the outsides of my feet in Standing Separate Leg Stretching. I'm starting to do Toe Stands, sometimes with both hands up in Namaskar. I can touch my forehead to my knees in situps, but sometimes I have to keep my knees bent a little. I can do Rabbits without using a towel. My biggest challenge is Standing Head to Knee. Sometimes I can extend my right leg out, but can't do the same with my left leg. What's crazy is I know I can do this one. My legs just aren't strong enough yet.
July 30, 2014, 6:00am - class 151 with Sandy Robin - I couldn't get my usual six hours of sleep because my feet were tingling in bed. I hope I'm not suffering from some form of nerve damage or, worse, the onset of diabetes! The tingling has happened many times in the past and would usually go away with a couple of minutes of walking. Thankfully, my yearly physical is next week. I'm just getting over a muscle pull in my neck. I proceeded through my workout without any problems and just two water breaks. I've discovered that drinking too much water during the workout hinders my ability to do some of the poses because it upsets my belly. It's time to move back to using the 12 ounce Hydro Flask.
July 31, 2014, 11:00am - class 152 with Leo Eisenstein - Leo's class was very philosophical and thought-provoking. Some instructors have moments of awkward silence during postures, but Leo's continuous talking distracts you from intense moments. He doesn't do much posture correction. His class is more about self-empowerment and reminding us not to overexert ourselves. I finished my workout with just two water breaks and my 12 ounce Hydro Flask with water to spare. The girl on the other side of the room was really rocking her postures.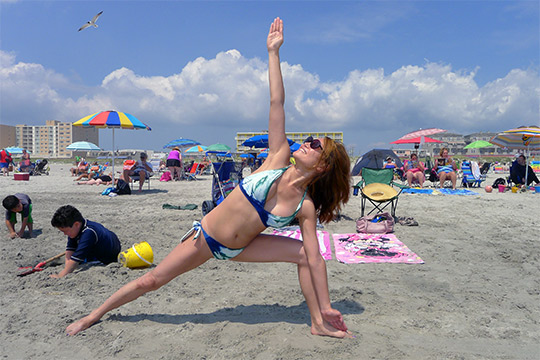 August 1, 2014, 12:00pm - class 153 with Chris Fluck - Before class, I chatted with my instructor, Chris, about my difficulties with Standing Head to Knee. He gave me some useful guidance and said he'd check out my posture in class. During the workout, he helped me with small adjustments in almost every posture. In every class I've taken with Chris, I can see the passion he has for Bikram Yoga and how he "makes the class his own" by transforming it into a learning experience for his students by incorporating his studies in exercise physiology into the dialog.
August 4, 2014, 6:00am - class 154 with Sandy Robin - A good class. Sandy helped me with the third phase of Wind Removing Pose and a couple of small adjustments in two other poses. My doctor doubts my tingling feet problem is diabetes, but the blood tests will reveal all.
August 6, 2014, 6:00am - class 155 with Sandy Robin - Sandy gave me some after-class instruction to help me with my Balancing Stick Pose. Yesterday, I was at North Wildwood striking up some yoga poses on the beach. I can surely do a much better Triangle on hardwood than on sand. I may use these pictures for next year's application to teacher training, but I'm sure I'll improve some by then. One of the reasons why I take so many yoga pictures of myself is to allow me to see my progress since the very beginning of my practice.
August 7, 2014, 7:00am - class 156 with Noelle Burgoyne - Noelle pointed out that my extended leg in Standing Head to Knee is a few inches too low. My goal is to conquer Standing Head to Knee with my right leg in a few more months. It'll take a little longer with my left because it's not as flexible. My teacher, Sandy, was in class today. She has an amazing practice. Her poses looked poised and purposeful. Every time I practice, I sweat the weight of a baby from my body. I wonder if that will ever change. My blood results came back and indicated that my glucose and hemoglobin levels are at an all-time low since 2008. My doctor suspects that the tingling in my feet may be caused by all of my yoga burning off all of the fat on my butt. Because I have very little cushion on my butt, any time I sit a certain way on a firm surface, my feet and legs start falling asleep. The solution? Sit on a pillow or elevate my legs in bed.
August 8, 2014, 12:00pm - class 157 with Chris Fluck - Chris was a real gem helping me with small adjustments in class to improve my poses. Before class, he explained to me and a classmate that one out of ten people stick with Bikram after ten years and one out of ten of those stick with it after ten more. I'd like to believe that I'll be practicing Bikram or some form of Hatha Yoga for the rest of my life. The important lesson for today is to not overexert yourself because a lot of injuries happen that way. That "stretch" you think you felt may, in fact, be an injury.
August 11, 2014, 6:00am - class 158 with Sandy Robin - I felt my spine "loosening up" a little today. I'm working on my Standing Head to Knee every day. I held my Standing Bow on my left leg for a full 60 seconds. I have to twist my body more in Triangle so my navel faces forward. I have to work on curving my spine more in Camel. I have to stop drinking so much Pepsi. Little by little, day by day!
August 12, 2014, 7:00am - class 159 with Katrina Bauer - Katrina Bauer subbed for Stella today. Katrina has a wonderful grasp of the dialog, but doesn't do any posture correction.
August 13, 2014, 6:00am - class 160 with Sandy Robin - Sandy helped me push my elbows closer together in Hands to Feet Pose. By pushing on my elbows, I was able to lift my butt up higher without fear of falling and get my face to inch further down my legs towards my ankles. I felt good about many of my poses yesterday and today. The secret to my focus is looking up and seeing all of the Bengal Tigers in the ceiling artwork. Today I read an article about how everyone is in awe of Elle MacPherson's 50 year old body. One of her secrets? Bikram.
You have an obligation to be the very best that you can be in your yoga practice because newer students will look up to you as a source of inspiration. You should always bring your "A" game to every class. You owe it to yourself and your teachers to do well. A teacher should be proud to have you as one of his or her students.
August 15, 2014, 12:00pm - class 161 with Chris Fluck - For the third week in a row, I felt like I had a personal trainer teaching me one-on-one, telling me to thrust my right shoulder forward while stretching out to the right in Half Moon, encouraging me to sit down lower in Awkward, warning me not to buckle my leg in Eagle, telling me to kick out as well as up in Standing Bow, prodding me to raise my arms higher and lock my lifted leg in Balancing Stick, providing me with lots of pointers to improve my Standing Separate Leg Stretching, and finally praising me with "Your Triangle is looking pretty good." Yay!!! Chris is refining me his way just like Sandy and Joel have refined me their way. Every instructor has their favorite poses and you could almost tell which ones they like because they devote much more time to them in class. This is why I think taking the class with different instructors is a good thing. You want to get different perspectives on Bikram and learn new tips or techniques that will help you in your practice.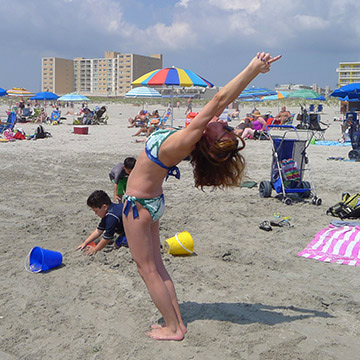 August 16, 2014, 9:00am - class 162 with Joel Pier - Today was about survival for me. I haven't been going to the weekend classes for quite a while and so I wanted to prove to myself that I could take the heat of the upper-level studio again. There's something going on in that room because even without the heater units turned on, it feels really weird to me. The only pose I skipped was Camel. If I did that, I probably would've felt nauseous again. I survived without having to leave the room. I did need more sips of water in class today than in recent weeks. I'm at an all-time low weight of 126.8. My partner, Robyn, thinks I'm too thin. My friend, Chris, even remarked that I'm too thin. He told his wife, who saw recent pictures of me, "She looks even thinner in person." I'm beginning to look like Madonna 2014 with that same wiry, muscular frame.
August 17, 2014, 9:00am - class 163 with Sandy Robin - I felt a little better today than yesterday. I was ablt to do one Camel, but barely. I refrained from sipping as much water as yesterday. Instead, I dripped cold water onto my belly and forehead. That was more satisfying than drinking it. Perhaps the only pose I cheated on was Wind Removing and that was because I was still exhausted from the Standing Series. I noticed the ceiling fans were on. That might've helped with the room temperature. Sandy helped me with Cobra. By holding my ankles, I was able to curl my spine more easily.
August 18, 2014, 6:00am - class 164 with Sandy Robin - Sandy helped me with all three phases of Wind Removing Pose. I think my right leg or pelvis must be crooked because I can't bend my right leg straight up like I can with my left. Watching Thayne do a number of Standing Bows, I think I understand what I need to do. I've been lowering my outstretched arm way too quickly all this time. It's supposed to be in line with my torso. Finally, I could see my toes above my head.
August 20, 2014, 6:00am - class 165 with Sandy Robin - Just two more days until my yoga retreat. I felt a little sick this morning either from Monday night's sushi or last night's pizza. The little demon in my head that occasionally tells me to relax and not work so hard was bugging me again, but I ignored the little shit and worked as hard as usual. The way I figure it, I've made the effort to get to class every morning, so why should I waste my time by missing a pose or two? I've got the remainder of the day - 22.5 hours - to rest and relax after 1.5 hours of temporary discomfort. Sandy's class went smoothly and I felt confident afterwards.
August 21, 2014, 5:30pm - class 166 with Robyn King - Robyn's class was rapid and well-paced with very little posture correction since there were no beginners. We didn't hold our postures as long as in other instructors' classes so we actually ended a few minutes early. My goal in this class was survival. It was really humid in the smaller studio, but I gave my honest effort in every pose, sweated my brains out, and limited my water intake.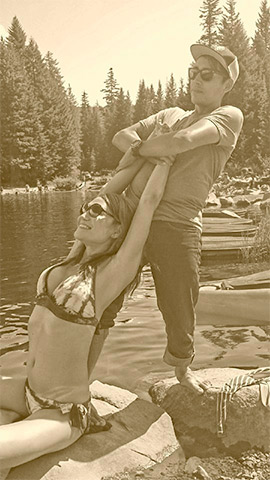 August 23, 2014, 8:00am, 5:00pm - classes 167 and 168 with Joel Pier and Katelynn Ingersoll - Yesterday was our first official day at the Bikram Yoga Ayurvedic Retreat held in Mt Hood, Oregon. We ate dinner at the Boardwalk Camp Lodge and met afterwards for a welcome session. Today I took two Bikram classes, the morning one taught by guru Joel Pier and the evening one taught by Katelynn Ingersoll, a two-hour posture clinic taught during the day by Joel, and an Ayurveda 101 class taught by Balarama Chandra. Katelynn pointed out that the reason why most of us are here is to learn from Joel, who is one of a handful of people authorized by Bikram Choudhury to teach posture clinics. Joel's teachings are practical and drawn from life experiences. For example, some people may experience anxiety in class when they feel they can't breathe in the suffocating heat. "When in doubt, breath out because that resets your breathing system," Joel advises. We were also taught that our arms are not joined to our bodies at the shoulder like we thought, but at the sternum. Because of that, we really should be able to reach up and touch our palms together with our biceps to our ears in Half Moon. Half Moon makes our bodies extend in four different directions: our arms extend out one way, our hips extend out the opposite way, our arms extend back, and our chest extends forward with our ribcage opening up. We were fed three complete ayurvedic meals, which were all surprisingly good. The oatmeal raisin cookies and nectarine cobbler were particularly noteworthy, the spinach and homemade cheese scramble was delicious, as was the the tofu scramble, and sweet potato, onion, and pepper mash was good. Perhaps the only thing I didn't enjoy was the garbanzo bean salad. I didn't think I'd be able to do two classes in one day, but I did it!
August 24, 2014, 7:30am, 3:30pm - classes 169 and 170 with Malea Diehl and Joel Pier - Our second day at the retreat included a morning Bikram class taught by Malea, a trip to Trillium Lake where I went sunbathing and rowboating around the lake (it was the first time I've ever been in a rowboat), an afternoon Bikram "master class" taught by Joel, a trip to Timberline Lodge where we witnessed scenic views of the mountains and the lodge itself where "The Shining" was filmed, enjoyed a drink at the Ram's Head Bar at the lodge, and ended the day with a small congregation of yogis in the eight-person outdoor hot tub (it was the first time I've ever been in an outdoor hot tub). The yoga felt a little more challenging than the previous day, perhaps because I was still tired from the two classes I took yesterday. I enjoyed the food today. We had pancakes, candied bananas, and two kinds of vegan sausage for breakfast, a hummus wrap and chickpea patties for lunch, and kaniwa and kale soup for dinner. The kale soup contained carrots, potatoes, and cheese and was especially delicious. I complimented the chef on that one. I ate a lot less today than yesterday because I don't want a bloated belly. More people joined the retreat today. Many people have been observing and complimenting me on my strong practice. Everyone is amazed that I had only started practicing Bikram in January. With every good practice, you honor your teachers.
August 25, 2014, 7:30am, 5:00pm - classes 171 and 172 with Joel Pier and Isa Boddengerg - Our third day of the retreat included a morning Bikram class taught by Joel, an Ayurveda class taught by Katelynn, and an afternoon Bikram class taught by Isa Boddengerg. Isa is one of a small group of teachers hand-selected by Bikram to help out at Bikram's teacher training courses. Her class followed the Bikram dialog verbatim. I liked how she emphasized certain words to really motivate us. I had an awesome Thai massage with Jill Ingersoll. Jill noted that I had a very strong back. The food was okay today. We had oatmeal in the morning, Asian-style tofu and veggie stir-fry for lunch, and bean soup, pasta salad, and a kitchari burrito and two kinds of potato fries for dinner. The pecan shortbread cookie for dessert was amazing. Later in the night, my roomies and I had some interesting conversations and we concluded the following: A yogi can subsist off of soft drinks and yoga, you can tell if a man has cheese by scratching his willy, and a lesbian can tell if a woman is wearing mascara from over 50 feet away. Although I've never been to summer camp, I enjoy the camaraderie in moments like this.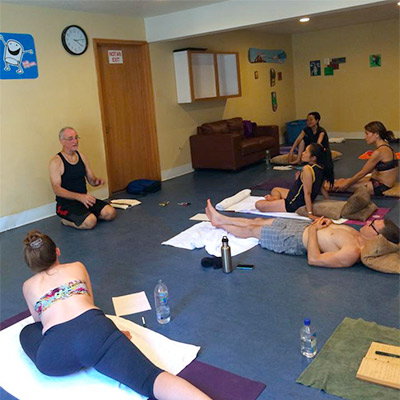 August 26, 2014, 7:30am - class 173 with Joel Pier - Our fourth day of the retreat included a morning Bikram class taught by Joel and a hike to Tamawana Falls in Mt Hood. I didn't do the afternoon Bikram class because I turned my ankle on a rock while navigating my way to the waterfall. I've never hiked before. It was an exhausting but exhiliarating experience. Everything was so scenic and beautiful. It was difficult to capture the moments with a camera. The four-mile trail is considered to be somewhat non-beginner, but I finished it in spite of my fear of heights. One of my roommates complimented me by saying I did a wonderful job on my first hike. Breakfast was delicious. It was tofu scramble with fruit salad, banana chips, and glazed cranberry scones. Lunch was okay. It was an avocado salad taco. Dinner was good. It was a selection of three different kinds of vegan pizza and apple cobbler. After dinner, we attended an Ayurveda class by Katelynn for some information on Ayurvedic cleansing and making our own kitchari and chai tea.
August 27, 2014, 7:30am, 5:00pm - classes 174 and 175 with Robyn King and Joel Pier - Our fifth day of the retreat included a morning Bikram class taught by Robyn King, a two-hour posture clinic taught during the day by Joel, and an afternoon Bikram class taught by Joel. Joel usually compliments me on my Awkward Pose, but this time he said, "Oooh... very nice!" to my Eagle Pose. I've been working on Eagle for quite some time. He also said nice things about my development in Half Tortoise. "I had a revelation," I responded. It was the first time I lifted my arms rather than my head or torso when getting out of the pose. Perhaps this was my golden takeaway from the posture clinics. Robyn looked very poised and confident teaching class this morning. I admire her flexibility in class. The food was delicious. Breakfast included mixed veggie kitchari and dinner was butternut squash soup, kinawa with fruit and veggie salad, potato fries, and an amazing surgary sweet truffle made with coconut, sweet milk, yogurt, raisins, and other good things. I skipped lunch in favor of a steak fajita at The Taco Shoppe, a little Mexican restaurant nearby. During the day, I got a deep tissue massage from Robbie and an Ayurvedic consultation from Katelynn.
August 28, 2014 - Our sixth day of the retreat was a white water rafting trip down the Deschutes River. We were all packed in personal flotation devices that were really tight. Mine jammed my boobs together. There were two rafts, red and blue, with eight of us plus a tour guide in each raft. Since I don't swim, I was a little apprehensive about the entire experience, but it really wasn't anything too crazy. There were no really steep drops and at no point did I feel like the raft was going to turn over. The thirteen mile trip included a lunch break at a midway point and several named areas that were Class III (intermediate) and IV (advanced). Four of us, including me, took turns "riding the bronco" by sitting on the front of the raft and holding onto the ropes for dear life as our raft hopped on the waves. I haven't had this much fun since I was on Space Mountain in Disney World. Another high point was when a renegade raft containing four drunk twenty-something guys and an ice cooler paddled towards us and doused us with water from their water gun. They circled our boat and doused us a second time, but Joel got them good by splashing them with water. We had no idea who these renegades were. We called it the "pirate boat." Our retreat friends in the second raft were a lot more adventurous than us because they were all riding on the edge of the raft with one leg out. I liked the more mellow pace of the "instructors' raft" I was in. I missed the morning Bikram class because my friend Isa and I got home late last night taking Jackie to the airport. I missed the afternoon Bikram class because our rafting trip took longer than expected. Breakfast was delicious and included two of our favorites from the week, buckwheat pancakes and tofu scramble. Lunch was a kitchari burrito. Dinner was a delicious plate of nachos with avocado salsa, spinach, cheese, and tomato lasagna, and fusilli pasta with tomato. After dinner, we went to the Huckleberry Inn to enjoy a huckleberry milkshake. A really fun day!
August 29, 2014, 6:30am - class 176 with Joel Pier - Our seventh day of the retreat included a morning Bikram class taught by Joel and farewells to our retreat friends. I learned a lot from Joel and the other Bikram teachers and the invaluable tips I learned to improve my practice will benefit me going forward. Prior to the trip, I experienced flu-like symptoms that could've been allergies. By the end of the trip, they were all gone. No doubt the fresh, clean air had a lot to do with it. I do miss the mirrors in my yoga classes, but was told by Isa that I will hardly get to see myself in the mirrors at teacher training. "Everyone gets to take turns being in the front row," she said. I gave Isa a big hug in the end. "I know you will do great at teacher training. Do it from your heart!" she said, tapping her own heart with her fist. "I will," I promised. We received small bags of snacks for our trip home. It was awesome not having to wear any makeup for an entire week and seeing others in their barefaced beauty. Okay, some ladies did wear a little makeup the entire week, but it didn't make sense to me given that we had two Bikram classes per day. Overall, the retreat offered something for everyone and I enjoyed many memorable first-time experiences there.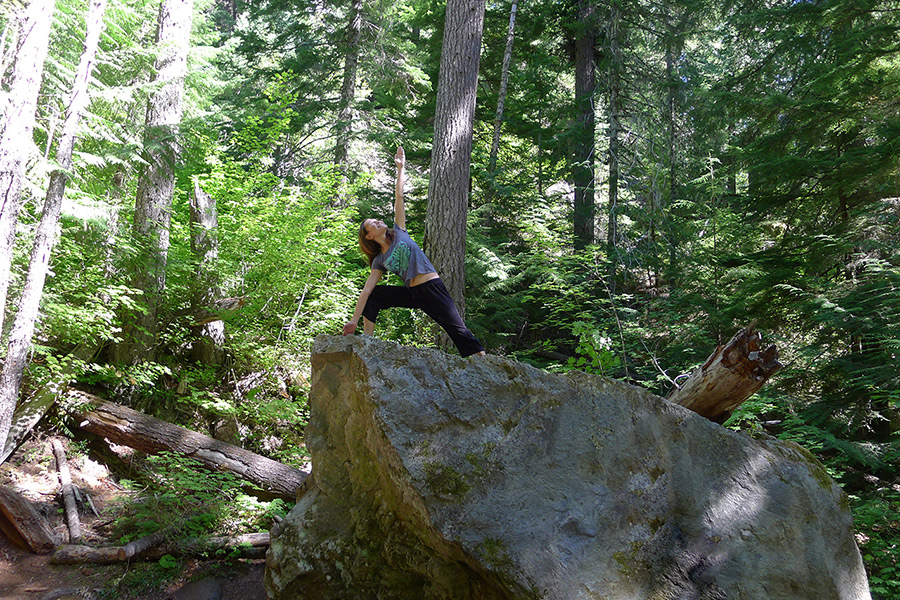 August 31, 2014, 9:00am - class 177 with Sandy Robin - Sandy noticed my Eagle Pose today. "That's a very nice pose, Clare! You had some wonderful teachers at the Mt. Hood retreat!" she said in class. When I started Bikram Yoga, I couldn't hook either of my legs around the other. I was also interlacing my fingers instead of putting my hands in prayer. I like Eagle Pose because it requires a good balance of strength and flexibility. I thought that not having mirrors for a week would hinder my development, but it actually didn't hinder me at all. When I did Pranayama, my vacuum was still tight and powerful. I also noticed that my legs rose higher than I remembered in Locust. The heat in the upper studio still bothered me, but I worked through it.

September 3, 2014, 6:00am - class 178 with Sandy Robin - Sandy will not only praise you when you show improvement, but criticize you when she thinks you're not trying hard enough. "No, not quite. You're just hanging on," she said of my Standing Separate Leg Head to Knee. I had a stomach bug, but I managed to work through it by not drinking any water until the end. Many Bikram advocates love to praise the magical powers of Bikram Yoga and how it heals everything. Sometimes the claims require you to suspend disbelief for a moment. I woke up this morning with terrible stomach cramps from possible food poisoning or a stomach bug. I had a huge bout with diarrhea just before class. I expected to go to the bathroom a lot during and after my yoga class, but my stomach bug seems to have disappeared. Did I sweat it out of me? My father had us believe that if you had a cold, you should wear lots of clothes so you would sweat out the cold. Perhaps there's some truth to this.
September 4, 2014, 7:00am - class 179 with Noelle Burgoyne - I'm glad to be back in Noelle's class! I missed the last few Thursdays, twice because I was out on the retreat.
September 6, 2014, 9:00am - class 180 with Joel Pier - Joel's class was intense as usual. The upper studio was really hot and humid today. I had to take numerous water breaks including a refill of my little water bottle during Savasana. Instead of drinking the water, I mostly touched the cold water on my forehead or put drops on my tummy. "How was class today?" a guy waiting for the next class asked. "Good, good!" I said, still wiping the sweat from my brow. "Did you get your money's worth?" he asked. I nodded. Back in March, I made a statement that was confirmed by this guy's conversation with me. I said that I believe that the weekend classes are much warmer than on weekdays because people who come on weekends are usually the once-a-week students who want to feel as if they are getting their money's worth.
September 8, 2014, 6:00am - class 181 with Sandy Robin - "Find the pose. Don't just go right into it," Sandy said after my wobbly Toe Stand. This sounded similar to my philosophy of letting a pose come to me rather than chasing after it. She also recommended I raise my arms up towards the ceiling when coming up for a sit-up. The secret to keeping your feet together in Cobra is to "pretend that you're wearing sneakers and touch the laces together," Sandy said. She held my ankles as I curled my upper body. "Feel the difference?" she asked. I nodded. She also held my ankles in Full Locust, also suggesting that I visualize wearing sneakers. An older man named John with an impressive combination of strength and flexibility stood next to me today. He was one of the first people I saw when I started Bikram. He usually stands in the back row. My partner thought I was too lean coming back from the retreat, so she encouraged me to eat with wild abandon. I did and gained two pounds, so I'm 131.2 this morning.
September 9, 2014, 7:00am - class 182 with Stella Rose - Stella complimented me on my Standing Head to Knee today. I was patient and "found the pose," like Sandy suggested. Unfortunately, I couldn't hold on for the count. I gave it my all in every pose. After class, a new student introduced herself to me and said, "You're really good. I felt like I could follow you the entire class." It feels nice when someone notices your hard work. Alas, I'm not as good as Thayne, who was standing right behind me in class, but being in the presence of someone who has mastered her poses can certainly help make you better.
September 10, 2014, 6:00am - class 183 with Sandy Robin - Yesterday and today, I did my deepest Half Moon. I want Eagle to be my pose. It's a really challenging pose to get right, but I think it's one that's suited to my body type. Standing Bow is still the most difficult pose for me, but I never gave up. Staring at the fingertips of my outstretched hand helped my balance. Sandy said that my Toe Stand is looking better because I'm lifting my body up more.
September 11, 2014, 7:00am - class 184 with Noelle Burgoyne - My backbend felt a little more intense than usual today. Noelle was checking out my progress on my pose. She suggested I rotate my head more in Standing Bow so that my ear touches my bicep to start off. The reason why I always turn my head in this pose is I look at myself in a defiant way. "Are you strong enough to do this? I dare you to do this!" I scream to myself. "Go ahead! Go ahead! I dare you to hold it for the full count!" I scream to myself. There is no mental peace when I do Standing Bow. I make excuses for myself, too, like telling myself my legs aren't strong enough to balance and hold for the full count even though i've managed to balance and hold it for the full count in the past. Today I saw a classmate-turned-teacher with legs thinner than mine doing Standing Bow with no problems. Perhaps it's time to realize that all of my perceived limitations are all in my head.
September 12, 2014, 12:00pm - class 185 with Chris Fluck - Chris helped me with small adjustments in a number of my poses. He saw the most improvement in Standing Separate Leg Stretching and praised me for my efforts.
Convincing my friends to take on Bikram Yoga is a tough sell. Nobody else really wants to work hard to achieve positive results. One of my friends who has had surgery for chronic back pain said to me, "At our age, we shouldn't be doing yoga every day." I asked him to try it, but he responded by saying that in his younger days, he could do Bikram. I wonder if he realizes that I'm defying his law of aging by doing yoga six days a week! Nobody cares about how you were five, ten, or twenty years ago. The time is now because there is no tomorrow!
September 13, 2014, 9:00am - class 186 with Joel Pier - I finally got up the nerve to introduce myself to Boryana, the girl who Sandy always uses to demonstrate what an excellent Standing Head to Knee looks like. I told her that I've admired her for a long time. She's one of a handful of Bikram practitioners with superior abdominal muscles. Joel's class was another tough one. We held all of our poses for a lot longer than usual. I felt like maybe I should've skipped today, but I'm glad I didn't. I saw three others from the retreat in today's class.
September 15, 2014, 6:00am - class 187 with Sandy Robin - Sandy helped me twist a little more in my Spine Twisting Pose today. I never hear my spine cracking in this pose. I wonder if it's supposed to. My Toe Stand isn't quite straight. My body like to tilt to one side. It could be the position of my foot. I'm approaching 200 classes, so I'll have another reflection week at that time.
September 16, 2014, 7:00am - class 188 with Malea Diehl - Malea complimented me on my Toe Stand. I found a point of stillness and just let go. It was easy to move my hands in prayer once I did that.
September 17, 2014, 6:00am - class 189 with Sandy Robin - Sandy emphasized the importance of being straight in every pose, especially Half Moon, Triangle, and Toe Stand. Chris' Triangle is one of the best I've seen and is something that I'm working towards achieving.
September 18, 2014, 7:00am - class 190 with Noelle Burgoyne - Sandy was in my class today and said that she and Noelle would be examining my Eagle and Toe Stand. Apparently, my hips rotate around the side of my bent leg a bit. Like Sandy, Noelle emphasized the importance of being straight in every pose.
September 19, 2014, 12:00pm - class 191 with Chris Fluck - Yikes, I was surrounded by five Bikram instructors in today's class! It's always powerful motivation to be in such elite company. Chris adjusted me and others in various postures and gave me lots of one-on-one tips to help fix my alignment issues. Somewhere in the middle of class, a familiar face waved to Chris from outside the hot room and he introduced her - Lauren - to the class as "the original killer" ("killer" is a name Chris gives to various yogis who work hard in their practice). Every day, more and more of my classmates know that I'll be going to teacher training soon. I hope to inspire people with my focus and determination.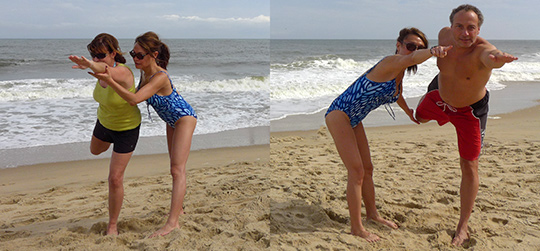 September 21, 2014, 1:00pm - I taught a Bikram class to my friends on our vacation in Ocean City, Maryland. We garnered lots of curious looks from other beach people. "That was a lot more intense than we had thought," my friends said the next day. "We're still feeling it in our arms and shoulders."
September 24, 2014, 6:00am - class 192 with Sandy Robin - Shortly after Sandy complimented me on my Triangle, I felt nauseous three poses later and had to sit down. Argh. My attitude today was let's just do it and give it our all, but I didn't have enough fuel in me to do the pose. Thankfully, it was just one pose and right before Savasana, our two-minute rest, so I was able to continue after that. Maybe the problem was I didn't drink enough water yesterday or I had just returned from a four-day vacation. I found myself sipping a lot more water than usual in the latter half of the class.
September 25, 2014, 7:00am - class 193 with Noelle Burgoyne - Noelle watched me like a hawk today, pointing out a number of alignment problems I had during class. That was much appreciated. I'm glad I didn't feel nauseous today.
September 26, 2014, 12:00pm - class 194 with Chris Fluck - Chris fixed an alignment problem with my Standing Bow and Triangle poses. I like that he and other teachers are focusing on these subtle alignments to help me improve. Right before class, I turned sideways so I could see myself from the side in the mirrors. My shoulderstand isn't bad. It's just not completely straight up yet. Like all other poses, mastery will come in time.
September 27, 2014, 9:00am - class 195 with Alex Meer - The upstairs studio was hot as ever, so I pulled myself back a few times during class to be able to finish class without heat exhaustion issues. A few hours later, I went to the Festival of India near the Art Museum where my family and I bumped into Katelynn, Joel, and Ed who were manning the Hatha Yoga tent. There were colorful exhibits, shows, and kids games. The food provided in the free feast was incredible.
September 29, 2014, 6:00am - class 196 with Sandy Robin - Sandy was very happy that I could touch my toe on the ground in Eagle Pose. She told Noelle about it. The things I've done well today could be attributed to the extra hour of sleep I had last night. It felt refreshing to have 6.75 hours of sleep. My sleep times are usually between five and six hours each night.
September 30, 2014, 7:00am - class 197 with Stella Rose - "Nice, Clare!" Stella commented on the second part of my Awkward Pose. Somehow I managed to sit down more than usual in this part of the pose. I felt a sharp pain under my left breast, so I took it easy on the plank-style exercises like Cobra and Locust. My upper body looks insanely muscular when I'm in Bow Pose. It's a shame that my tummy isn't quite there yet. In Half Moon, I tried stretching my spine more, especially the vertebrae in my lower back. "Stretch, muthaf***er, stretch!!!" I screamed to myself.
October 1, 2014, 6:00am - class 198 with Sandy Robin - "Make sure your hips are square when you come down," Sandy instructed, holding my hips in place during Standing Separate Leg Head to Knee Pose. "I want you to try reaching up and over," she said during Seated Forward Bend (Paschimotthanasana) so that my spine would straighten more during the bend. As we advance more in our yoga, we discover just how far we really are from perfecting a pose.
October 3, 2014, 12:00pm - class 199 with Chris Fluck - Chris made Triangle more challenging for me by readjusting the position of my extended arm. "Since you can reach between your toes, I want you to try that," he said. I trust Chris because he is basically "Mr. Triangle" when it comes to Bikram Yoga and he is quite possibly the most physically fit person I know. I think my body type is the female equivalent of his, where strength and power creates flexibility. Most women rely on natural flexibility to get through a lot of the more graceful-looking postures. After class, Ed Silver, another instructor, asked me if I was going to teacher training soon. I told him that I would go next year. "That's great. I think a lot of studios would hire you," he said, "Cool, thanks!" I said.
October 4, 2014, 9:00am - class 200 with Joel Pier - After 200 classes, I will reiterate what I said at 100 classes. I am still no expert at Bikram Yoga. In fact, the more I learn, the more I discover that perfecting any posture is probably not achievable in this lifetime. The best we can do is show what we've learned at any given moment. Only the foolhardy will think that their poses, while perhaps beautiful, are perfect. The struggle to achieve an impossible perfection doesn't sit well with a lot of people, but I understand it. It's an Eastern way of thinking. "That's so nice..." Joel commented of my Eagle Pose. I sat a little too low in Awkward Pose, however. After Locust, Joel hovered over me and asked if I wanted a push. I nodded. "Breathe in," he said as I inhaled. "Now breathe out... and breathe in... and breathe..." he continued, and as soon as he said the last "out," I heard loud pops in my upper back. I let out a sigh of relief. My back felt better in Full Locust. My spine is looking better every day.
One of the daily warmup exercises I do prior to my Bikram routine is Sarvangasana (shoulderstand). It is often referred to as the queen of all yoga postures. It is considered a complete pose, meaning that it aids in the function of the entire body. Some yogis do only this pose and it can be held from 30 seconds to 30 minutes. Sarvangasana balances hormones, strengthens the heart and respiratory system, combats the common cold, soothes the nervous system, reduces constipation, increases strength and flexibility, decreases varicose veins, ignites creativity, reduces wrinkles, and aids in restful sleep.