October 6, 2014, 6:00am - class 201 with Sandy Robin - Two new students who've never done Bikram Yoga before appeared in class today. After a couple of Pranayama breaths, Sandy moved their mats behind mine. "I want you to follow Clare. She's good at this," she said to them. I knew I had to deliver a very strong practice today. Sandy complimented me on my Awkward Pose, but my Eagle Pose wasn't as strong as usual, perhaps because of my high salt intake from last night's burger at Urban Saloon, but I gave it my all in every other pose, especially Triangle. I sipped water only after Eagle. Sandy helped me discover my curve in Full Locust and helped me with several other poses, including Locust, Cobra, and Half Tortoise. My thighs are 20 inches around, which is one inch larger than they were when I was bodybuilding over 25 years ago.
October 7, 2014, 7:00am - class 202 with Stella Rose - Another two new students appeared in class today. They stood behind me, so I again had to deliver a very strong practice today. My Standing Bow was better than yesterday.
October 8, 2014, 6:00am - class 203 with Sandy Robin - I tried something different today with my focus during Half Moon. Instead of staring so intently at myself - my friends think I'm a narcissist - I soft focused my eyes so I couldn't see myself clearly in the mirror. During the last ten seconds, I sharpened my focus again and noticed my pose was really deep. I never gave up in Standing Bow. Every time I fell out, I got back in and tried again.
October 10, 2014, 8:00am - class 204 with Katelynn Ingersoll - Amid Katelynn's excellent instruction and encouraging words that helped push me to be better today, I came across a kawabunga breakthrough. Standing Head to Knee has been increasingly difficult for me in recent weeks as I felt my yoga retreat form slipping away, so I just closed my eyes and convinced myself to let go and not be scared of wobbling and falling over. An amazing thing happened... I opened my eyes and found myself with my outstretched leg in the air, perpendicular to my standing leg. Katelynn also showed me a way I could get a more effective Floor Bow. "Just roll forward. Keep rolling forward, kick your legs straight up, and lift your head up. Forget about kicking back," she said, "because you've got this beautiful curve already." Katelynn mentioned to the class that I was going for teacher training and that I'd be a great teacher someday.
October 11, 2014, 9:00am - class 205 with Joel Pier - Eagle is one of the hardest poses in the Bikram set because most people can't wrap their arms and legs around like pretzels. Even if they can, they can't sit low enough. One by one, everyone falls out of this pose before Joel calls time. He usually keeps us in each posture a little longer than usual, hence his reputation for conducting tough classes. I was one of the last ones standing in Eagle. Joel noticed my resilience. "If you want to see how low you have to go in Eagle, come see Clare after class," Joel announced to the rest of the class. Eagle is my pose. Most girls like to do Standing Bow because they can make it look really nice, but I like Eagle because I can make it look really nice. I advised one student before class who had trouble with wrapping her legs right in Eagle to "think like a Samurai." You have to go into the pose like it's all business because it's not a walk in the park. If you don't do it right, you can topple over and hurt yourself. Always pick a dry spot on your mat before you begin Eagle.
Some of my peers tell me I have a very strong practice and are shocked when I tell them that I only started practicing Bikram Yoga from January of this year. The reason for my expedient development lies in the quality of the teachers at Bikram Yoga Philadelphia, my willingness to listen and learn from my teachers, and my desire to be the best that I can be. I always stand in the front row in the middle of the room wearing the boldest-looking yoga outfits. If I make a mistake, there is no way I could be missed. Every time I get posture corrected, it helps me and I try not to make the same mistake again. If I wore a more demure outfit and stood in the back row, I know that my development would be a lot slower.
October 13, 2014, 6:00am - class 206 with Sandy Robin - The path I'm taking might not sit well with Bikram purists, so the only way to convince my peers that I can teach is to be the most amazing teacher I can be and wow everyone with a kick-ass work ethic and practice. I want to teach yoga because I enjoy teaching and watching people grow mentally and spiritually. At some point, teaching yoga will be my full-time career and I am quite sure that my teacher training course will not be the last yoga training I take.
October 14, 2014, 7:00am - class 207 with Ed Silver - Ed scanned the room like a hawk today. His eyes darted from body to body. He corrected my alignment on three postures, which was much appreciated. I actually didn't know you were supposed to square your hips towards the mirror in Janushirashana (Head to Knee Pose).
October 15, 2014, 6:00am - class 208 with Sandy Robin - Sandy helped me with Locust Pose today. She lifted my legs up by the ankles and told me that that's my potential. Sometimes I wish I never got breast implants because I might've been able to lift my hips and legs up more easily. The breast implant surgery I got is called the dual plane method where the surgeon divides your chest muscle so it drapes over the implant creating a more desirable appearance. This effectively decreases your chest strength. My surgeon recommends not doing plank exercises. I've been rightsizing my meals over the past few days and weigh 127.2 today.
October 20, 2014, 6:00am - class 209 with Sandy Robin - Sandy is still skeptical about my training choice, so I'll have to prove my worth as a teacher by teaching some great classes. I remember a similar situation in which my mother was skeptical about my choice of college - Boston University - until almost four years later when I was accepted into an Ivy League graduate school. Some Chinese mothers place an abnormally high value on an Ivy League education. What I learned at Boston University proved to be every bit as valuable as any Ivy League education. It's the student, not the school, that defines his or her path to success. Sandy helped me with Wind Removing Pose and Locust. She also helped me twist beyond my usual capabilities in Spinal Twist. I'm still 127.2 today.
October 22, 2014, 6:00am - class 210 with Sandy Robin - Standing Bow is the most difficult pose in the Bikram series for me because I don't have good overall balance and can't yet do a leg split. Women who have a strong dance or gymnastics background can do this pose more easily than others. I was not one of these fortunate souls, so every day I come to yoga class and try my best not to wobble on my standing leg while holding the pose. It took about nine months of Bikram Yoga to add an inch of muscle to my thighs. It'll probably take another nine to add an inch more. I think by then I'll have a good leg to stand on. Perhaps someday, years from now, I can get my Standing Bow to look as good as Noelle's.
October 24, 2014, 8:00am - class 211 with Justin Riley - "If there's one thing you should take away from today's class, it's learning to breathe," Justin said. He mentioned about how people are more apt to speak to someone who is calm, relaxed, and breathing normally than someone who is short of breath. Justin focused on the importance of our breathing in various postures.
October 27, 2014, 6:00am - class 212 with Sandy Robin - Sandy helped me lift higher in Standing Head to Knee and Standing Bow. She also helped me in two floor exercises. There were a few new faces in class today.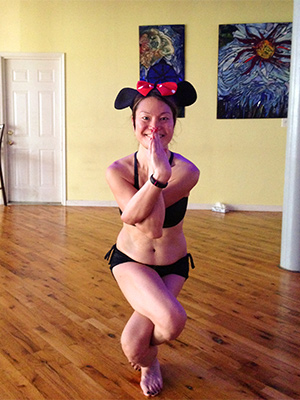 October 28, 2014, 7:00am - class 213 with Sandy Robin - I had just five hours of sleep, but I gathered up all the inner strength I had to complete the workout. The Standing Series is very challenging when you lack sleep. Still, I wasn't going to let anyone best me in Eagle. That's my pose.
October 29, 2014, 6:00am - class 214 with Sandy Robin - I pushed myself a little too hard in Triangle and that made me feel really dizzy for the rest of the workout. It also felt usually warmer in the studio. A fellow student confirmed this by telling me that the thermostat read 120 degrees. Yikes! The combination of pushing myself, the heat, and the fact that I'm leaner than usual at 124.6 pounds spells disaster for my body. I was still dizzy for several hours after class.
October 30, 2014, 7:00am - class 215 with Noelle Burgoyne - I've missed my classes with Noelle mostly because of my many recent Thursday meetings, so it felt good to be back in her class. I enjoy Noelle's Thursday class because it's right after Sandy's grueling Wednesday class. If Sandy tells me to do something, I just do it because she's the master, but I'm sometimes sore from overexerting myself. Noelle makes the Bikram dialog sound beautiful with the bouncy tones in her voice. I just love her voice! She keeps me relaxed and confident during the entire Bikram routine. Noelle's class is where I get a feel for the meditation aspect of Bikram Yoga.
October 31, 2014, 8:00am - class 216 with Justin Riley - In honor of Halloween, we were encouraged to wear heat-friendly Halloween things during yoga today. It was quite entertaining trying to keep my Minnie Mouse ears from falling off my head. I finally removed them during Half Tortoise, one of the final poses, because I didn't want to ruin my costume ears. Another girl dressed as Mario, Chris Fluck dressed as Thor, and Sandy set up three little pumpkins in front of her mat. I received numerous compliments on my costume.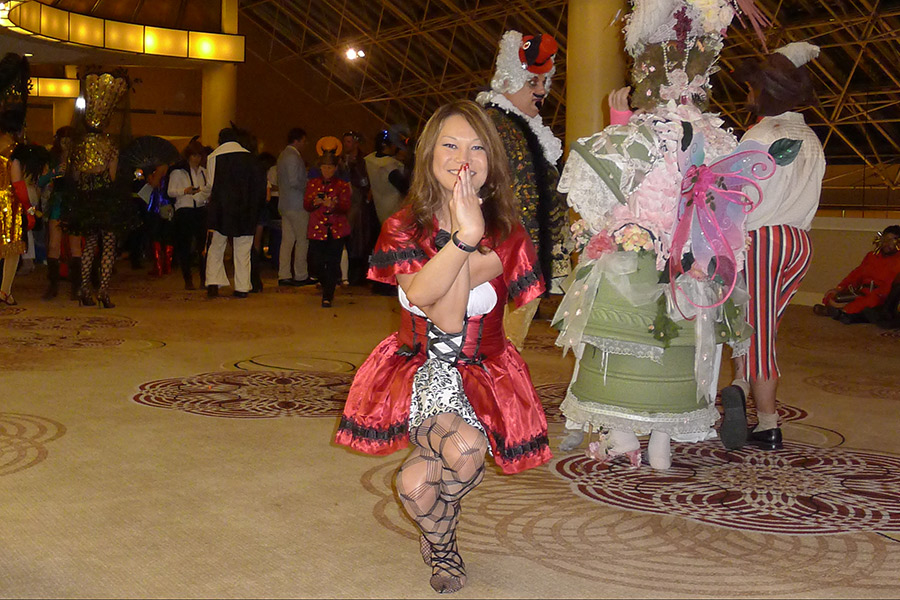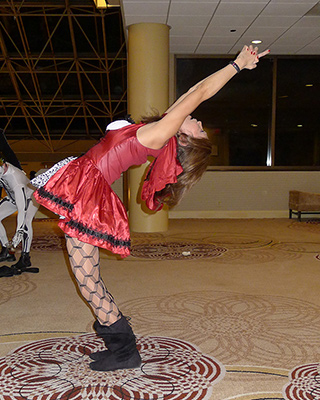 November 3, 2014, 6:00am - class 217 with Sandy Robin - Class was in the upstairs studio today, but there must've been a problem with the heating in the upper studio, too, because the thermostat read 100 degrees. I barely broke a sweat and felt I could do another class under this temperature. One of my favorite classmates, an Indian girl with a bright, big smile, returned to class today ready to be a part of "the 6am crew" again. I received my training materials from Evolation Yoga. I have four months to learn the dialog and read and write about three pretty deep books.
November 4, 2014, 7:00am - class 218 with Stella Rose - I'm usually one of the first ones in the studio every morning, but today I was running late so I didn't get my usual spot in the front row in the middle of the room. Instead, I parked myself to the right of the blonde who took my spot. Before the class was over, she had the audacity to leave! If you have to leave early, don't take one of the front row spots because that disrupts the class.
November 5, 2014, 6:00am - class 219 with Sandy Robin - I've been progressing in Standing Head to Knee in the past week. I've always seen this posture as difficult and daunting, but if I just relax my mind, I can do it with my right leg with no problems. My left leg still has some physical limitations that I can't seem to overcome at the present time, but hopefully that will change. As Mark Drost says, "The postures are not the goal. They are a tool to create connection between body and mind." I came to this same realization after a hundred or so classes! Are we just doing yoga to make pretty poses or are we trying to somehow reflect stillness and inner peace through our yoga postures?
November 6, 2014, 7:00am - class 220 with Noelle Burgoyne - One of the things I like about Noelle's class is its consistency. Her dialog is warm, welcoming, and encouraging at the same time. Her mantra of improving "step by step, day by day" makes her one of my favorite teachers in my studio. I'm looking forward to studying with Mark Drost because Mark was one of Noelle's teachers at her Bikram training.
November 7, 2014, 8:00am - class 221 with Justin Riley - Justin's class was filled with lots of helpful philosophy, mechanics, and meditation principles. In between postures, he gave us useful advice to help us improve our practice.
November 10, 2014, 6:00am - class 222 with Sandy Robin - If you started practicing yoga in your mid-forties like I have, you will invariably discover that how strong and flexible you were in your twenties has nothing to do with how strong and flexible you are now. You may have created a decent foundation in your youth, but it will never be the same if you don't keep up your training every day. Only recently was I able to stretch my arms up so high in Half Moon that my biceps were not just next to my ears, but well above them. Some people like Pranayama Breathing and Half Moon. I hate them. I think they are the most grueling parts of the Bikram sequence. Once they're done, the rest of the sequence feels much easier to me. Sandy helped me with Half Moon and Hands to Feet Pose. I look at her and other teachers in my studio with great admiration because even though she may disagree with my teacher training path, she's still helping me get better every day. In the end, a great teacher motivates students to be great. A teacher who doesn't do this has no business teaching because she's not really helping anyone.
November 11, 2014, 7:00am - class 223 with Stella Rose - I convinced my friend Chris W to wake up early and go to yoga with me this morning. Chris doesn't usually work out in the morning, so this was a new experience for him. He was able to stay in the room and complete the entire series unlike two other newbies who left soon after the floor series started. Chris admitted to me that he felt more energized after class than going into it. Over breakfast, I told him about all of the healing benefits of Bikram Yoga and some of the books I'm reading for teacher training. "Your yoga class has some of the skinniest girls I've ever seen," he noted. The skinniest, strongest, and healthiest.
November 12, 2014, 6:00am - class 224 with Sandy Robin - "I think it's so great that you're taking that training class. I'm shining a light on you!" one of my classmates said to me. This is when you know that what you're doing has touched someone in a profound way.
November 13, 2014, 7:00am - class 225 with Noelle Burgoyne - The standing series is an intense challenge for me. I'm starting to extend my leg out in Standing Head to Knee again, but my standing leg just isn't strong. My Standing Bow is getting better. I'm thrusting out at the end to stretch my arms and leg out more. I wonder if I could really get both of my legs vertical. The extra effort in Standing Bow exhausts me before I begin Balancing Stick. I need to save some energy for Balancing Stick.
November 14, 2014, 6:00am - class 226 with Justin Riley - I'm improving little by little every day in Standing Separate Leg Head to Knee and Tree Stand.
November 17, 2014, 6:00am - class 227 with Sandy Robin - Sandy fixed a small alignment issue with my Standing Separate Leg Head to Knee. She also pushed my body down in the third part of Locust.
November 18, 2014, 11:00am - class 228 with Noelle Burgoyne - I asked Noelle for a recommendation for teacher training and she said she'd be happy to write one for me. Yay!!! I didn't realize this until I looked at my student records, but, next to Sandy, I've actually taken more classes with Noelle than any other instructor. I'm currently reading The Bhagavad Gita: A Walkthrough for Westerners by Jack Hawley. The Gita is the song of God and lays out a roadmap for how to live a spiritual life. It's a difficult read, but worth reading.
November 19, 2014, 6:00am - class 229 with Sandy Robin - Lots of Pranayama breathing today. I gained some weight from my day trip to New York City on Saturday, but quickly lost it again thanks to yoga. I believe that if you keep exercising every day, then little weight gains here and there will quickly vanish.
November 20, 2014, 11:00am - class 230 with Noelle Burgoyne - Whenever Thayne is in my class, I push myself harder to go deeper and get more aligned in my postures. I'm inspired by my Bikram teachers. They all bring out the best in me. Wow, it was 121 degrees in the studio today. It didn't feel that bad. I hope to complete 300 classes before teacher training.
November 24, 2014, 6:00am - class 231 with Sandy Robin - I failed my class today. I failed all of my classmates who looked to me for inspiration. I failed Sandy. I failed myself. It was one of those days where Standing Bow took everything out of me and I felt nauseous afterwards. I had to lie down during Balancing Stick and Toe Stand. Toe Stand, of all things! I couldn't do anything in Camel. I started class great, but my energy level went from 100 to 0 after Standing Bow. My weight wasn't too bad at 128.6. I ate a lot of salty foods over the weekend. Perhaps that and the sudden climate change affected me negatively.
November 25, 2014, 7:00am - class 232 with Stella Rose - Stella praised me on my Standing Head to Knee. I got my leg extended and it was reasonably parallel to the floor. "Nice, Clare!" Stella said. After class, Sandy asked me about yesterday. "Are you okay?" she asked. I admitted to eating lots of salty foods over the weekend. I'm not sure if it was truly the cause of my energy drop, but I suspect it was the main culprit.
November 26, 2014, 6:00am - class 233 with Sandy Robin - A good class today with 15 students. I survived. I think the new thermostat has something to do with the increased warmth in the room. I made a little progress with Toe Stand. The calf strengthening of Awkward Pose seems to help with this.
November 27, 2014, 9:00am - class 234 with Leo Eisenstein - There's never any dead air in Leo's class. He talks nonstop from start to finish, which is good because it helps distract you from the difficulty of some of the poses. It was a good size class at 41 students in the large studio. The room temperature actually felt cool! Someone mentioned that Leo doesn't like his classes real hot. After class, I did Eagle Pose with my side view facing the mirror. I wanted to see how close I looked to the pictures of Eagle Pose I've seen online. I'm pretty damn good. Whenever I do a great Eagle Pose, the Eagles always win soon after. I tried to get lunch after class, but every one of my favorite places was closed.
November 28, 2014, 9:00am - class 235 with Chris Fluck - It was a small class today in the large studio and the temperature was as cool as yesterday. I love it when the large studio is like this. There's no reason to crank the heat up to over 105. I still worked up quite a sweat and Chris helped me with a number of corrections. "There's no such thing as a perfect posture, but you can work towards a perfect posture," Chris teaches us. Sometimes I think that after 235 classes, I should need no assistance in my postures at all, but you can't always see what you're doing wrong even if you stare at the mirror in front of you. Only a teacher can observe you from all angles to see what you're doing right and wrong. I got lunch at Hip City Veg after class. It's good to be eating soy and veggies for lunch again.
November 29, 2014, 9:00am - class 236 with Katrina Bauer - I wore my new Athleta yoga top and leggings today because I expected it to be cool again in the large studio, but it wasn't. It was toasty warm. I liked how my new clothes looked on me. My body has certainly improved since the beginning days of my practice. Every one of my friends has seen the amazing transformational process I have undergone. Before class, I looked up to the heavens, smiled, and thanked God for giving me yoga.
December 1, 2014, 6:00am - class 237 with Sandy Robin - I was met with the same nausea-inducing heat as last week, but I didn't fail this time. I kept my energy reserves filled throughout the class. I did slow down at points, but I never missed a posture. I didn't feel as strong today as usual, but then again I never feel that great on Mondays.
December 2, 2014, 7:00am - class 238 with Ed Silver - "Nice, Clare!" Ed praised me on my Awkward Pose. Ed not only delivered the dialog masterfully, but gave us lots of insights into the world of Ayurveda. He quoted Balaram, one of the foremost Ayurvedic teachers in the West, whom Ed and I both learned from during our time at the Bikram Philly Retreat in Oregon.
December 3, 2014, 6:00am - class 239 with Sandy Robin - I've always liked Sandy's "floating on a raft" speech at the end of our practices. Somewhere in the middle of summer she stopped giving the raft speech. I've always felt it was the perfect soft ending to a hard, strenuous workout. I requested she do the speech again and she did so. Unfortunately, there are always knuckleheads who leave before she finishes.

December 4, 2014, 7:00am - class 240 with Noelle Burgoyne - I received my recommendation letter from Noelle today for teacher training. Yay!!! At some point, I will have to start doing two classes per day to prepare for the rigors of teacher training.
December 5, 2014, 6:00am - class 241 with Justin Riley - One correction in Half Moon and the rest was smooth sailing. I'm discovering Triangle is much harder now because I put so much effort in Standing Separate Leg Stretching. My thigh muscles sometimes twitch so much in Standing Separate Leg Stretching that my knees are weak during Triangle.
December 8, 2014, 6:00am - class 242 with Sandy Robin - No nausea, no nausea... good, yes! Sandy was right on top of me in Eagle ("lift your chest up more!"), Standing Head to Knee ("lift your heel higher!"), and Balancing Stick ("right foot out more!"). She pushed my upper body down in Standing Separate Leg Stretching so I could put more weight in my toes and force my butt to turn up more. She also watched me like a hawk in the floor series. I like that.
December 9, 2014, 7:00am - class 243 with Ed Silver - "Thrust your chest out!" Ed said to me in Half Moon. "Reach up, way up!" Ed said, urging me to point my fingers up higher in Triangle. I like how Ed tells us how each pose is beneficial to us. Stella did that. I miss Stella, but Ed is pretty good, too. The countdown has started. In three months, I will be attending Evolation Yoga teacher training in Santa Barbara.
December 10, 2014, 6:00am - class 244 with Sandy Robin - I had a decent class today. I was very focused and poised. I had that look on my face to say it's time to get serious. Sandy urged me to thrust my foot out from my heel in Standing Head to Knee and Head to Knee. I had one sip of water after Eagle Pose and went without water for the rest of the class. I'm slowly learning the dialog. I've started with the easiest pose first, Dead Body Pose. The dialog is a little different from Bikram's, but the concepts are the same. The English is still wonky in parts. Maybe I can help fix it in the future. As I delve deeper into each posture, I realize the farce in learning everything from one man, even if he is the original source. Page 118 of the Bikram Yoga book shows why.
December 11, 2014, 7:00am - class 245 with Noelle Burgoyne - I tapped cold water against my forehead after Eagle Pose and went without water for the entire class. Noelle made one small correction during Standing Separate Head to Knee Stretching.
A great teacher motivates students to be great. My evolution as a Bikram baby is due in large part to the wonderful teaching staff at Bikram Yoga Philadelphia. About 40% of my classes are with Sandy Robin. She is a tough-as-nails teacher who has made me stronger and more resilient. I love Sandy. Whatever she tells me, I just do because I trust her. About 12% of my classes are with Noelle Burgoynne. She is a caring, nurturing teacher with a good soul and a mellifluous voice. She has an even-tempered, quiet resolve that I like and a strong, gorgeous spine that allows her to perform a perfect Standing Bow. About 10% of my classes are with Joel Pier. He is a sage and also a tough-as-nails instructor who inspires me to continually strive to improve my postures. It was his aura and welcoming attitude in the early months of my practice that made me feel like I had a home in Bikram Yoga Philadelphia. Special mention goes out to Chris Fluck. If I was wealthy, I would hire him as my personal trainer. The wonderful thing about Bikram Yoga is every teacher is different so part of the fun is finding teachers whose personalities you mesh with. Every teacher has years of knowledge and experience that he or she can impart in class so attend every class with an open mind and heart and you will get something out of it.
December 12, 2014, 10:00am, 7:30pm - classes 246 and 247 with Chris Fluck and Robyn King - Foot position is very important in a Chris Fluck class. I've learned that tiny micromovements can make all the difference between doing a pose correctly or incorrectly or turning a good pose into a great one. "I'm harder on you than anyone else in class, because I know you're going to teacher training," Chris said to me after class. We had a long discussion about teacher training and yoga, especially the course I'm taking. "I don't care what training you go to, so long as you can teach," he said, "and from what I can see, you're going to be a great teacher someday. You're very hard on yourself, aren't you?" "Yes, very hard," I nodded in agreement. "I can see that," Chris said. If you believe in me, I will never let you down. I will do my best to represent my teachers and my schools wherever I go. I've been studying Eagle Pose for the past few days. Just like yoga, I have to build myself up one day at a time. In the evening, I decided to try Robyn's monthly "Bikram Beats" class for the first time. The concept of the class is cool, but I couldn't get into the music selections and I was struggling to hear the instructions over the music at times. Since the music changes every month, perhaps I'll like the next class more. At its core, the class is still Bikram Yoga, but we were told to take it easy, socialize, and take breaks when we wanted to. Not many of my twenty classmates took breaks and nobody socialized so I churned away as if it were another Bikram class. The class lasted just seventy minutes since it was faster paced. I went without water in both classes today, but I was a little dizzy after the evening class.
December 15, 2014, 6:00am - class 248 with Sandy Robin - Every teacher creates their own version of the Bikram dialog. I'm not sure anyone actually wants to tell their students to "place your exactly forehead on your exactly knee," "grab your elbows each other," or to make their bodies look like a "Japanese ham sandwich." Perhaps it would've been better to teach students about the ajna, or third eye, and tell them to touch their ajna to their knee or to compress the upper body flat against the legs without using an esoteric food reference. Some poses require more description than others. At times, I find the dialog distracting, especially when I'm in a pose and I'm thinking to myself, "Am I doing it right? I think I'm doing it right. Maybe I'll readjust. Oh! I did it wrong!" This usually happens when I'm in a pose and I'm readjusting with everyone else because I hear instructions to turn a certain way when I was already turned that way. The dialog approach to teaching isn't perfect, but it's the best thing we have at the moment to teach large classes. It's been six months since I took the Advanced Bikram Yoga class. What I learned from it is I wasn't quite ready for the advanced class yet. I let my ego get the better of me and that's not what yoga is all about. It was, in many ways, a wakeup call for me because my unbridled enthusiasm isn't going to help me do Scorpion or Full Camel.
December 16, 2014, 7:00am - class 249 with Ed Silver - In Stella's absence, Ed has done a good job as a substitute teacher. My partner actually loves Ed for his Zen-like nature. I tend to gravitate more towards the teacher who keeps pushing you beyond your limits. The cool thing about Bikram Yoga is there are teachers with all kinds of personalities. You can create a schedule with a lot of strict drill sergeants or nurturing, caring Zen masters, or a combination of both. I like evolation's Standing Head to Knee dialog a lot more than Bikram's. The biggest problem with Standing Head to Knee is I've never known what it feels like to have my forehead on my knee after almost 250 classes, so today I propped my leg up on my office desk, which brings my leg up approximately parallel to the floor, and placed my forehead on my knee. Now the dialog makes sense! Ah, glorious day!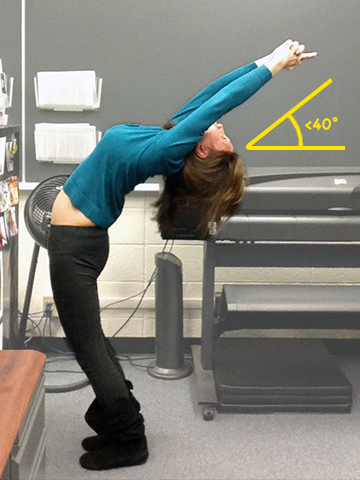 December 17, 2014, 6:00am - class 250 with Sandy Robin - It's somewhat ironic that my 250th class is with the teacher who really pushes me beyond my limits every day. Today was no exception. I still don't look like "a T as in tiger" in Balancing Stick and Sandy always lets me know it. I'm rather terrible in Standing Bow and only marginally acceptable in the third part of Full Locust. I only recently started to lift my right leg up in Standing Head to Knee so that it's parallel to the floor and hold it there until I'm told to change. My left leg is still in a state of indecision as to whether it wishes to extend at all. Maybe my next 50 classes will show improvement. I figure I'll have 300 classes under my belt before I start teacher training.
December 18, 2014, 7:00am - class 251 with Noelle Burgoyne - Am I slowly becoming yoga rather than just practicing yoga? I've done what I thought was impossible for the past week... no sipping water during class! I didn't feel that stomach churning feeling I usually get a few poses after every sip. I also noticed something interesting when I did Standing Bow. If I start to feel like I'm losing balance, calming myself down brings me back to balance. The only time I actually fall out is when someone next to me distracts me by falling out.
December 19, 2014, 6:00am - class 252 with Justin Riley - Holy crap, I extended my left leg out in Standing Head to Knee! (read my thoughts in class 250) I know it's not exactly parallel to the floor, but that will come in time. My head is getting closer to the ground in Standing Separate Leg Stretching. Justin taught us about how our body sometimes moves ahead of our mind when we practice and gave us tips on keeping both our body and mind aligned. "The breath connects the body and the mind," he advises.
December 22, 2014, 6:00am - class 253 with Sandy Robin - After tomorrow, the rest of the week is going to require some adjustment from my usual morning routine. My studio deserves a lot of credit for being open 365 days a year, but some of the holiday classes do require me to shift my work schedule around. I'm seriously thinking about doing the New Year's Eve class. The dialog for Standing Head to Knee is hard. I still haven't completely memorized it. I'm also studying Standing Bow.
December 23, 2014, 7:00am - class 254 with Stella Rose - I'm getting deeper in my backbends each week. I still have a ways to go before my arms are parallel to the floor. There were many new faces in class today. Sometimes my classes are all female. Today there was a 3 to 1 ratio of women to men.
December 25, 2014, 9:00am - class 255 with Sandy Robin - A roomful of yogis populated this morning's class. I liked the feeling of warmth and health in the air. Bikram Yoga is quite possibly the best gift one can give oneself.
December 26, 2014, 9:00am - class 256 with Chris Fluck - I saw Chris before class today and we climbed the stairs to our yoga studio. "You know how I always get on you in class about your footwork?" Chris said to me. I nodded. "Well, check out your shoes," he said. I turned my boots over. My soles were not evenly worn, proof that I don't walk as well as I should. It's probably time to get new shoes and boots because the more my soles wear down, the worse I'll walk. A lot of places had their post-holiday sale today so I bought more Athleta yoga tops, new UGGs, and some tops from Ann Taylor. Yay!!! A couple of Cobb salads and a slice of pizza yesterday brought me back to my normal weight range after this past week's holiday meals. In class, Chris encouraged me to laugh after I fall out of Standing Bow rather than do it with my serious face. It certainly made my second set easier. Chris referred to Sandy as his "yoga mom." "You're still the strongest one in the room, Sandy," he said to her during Locust Pose. Indeed, Sandy could arch her spine back like a scorpion.
December 29, 2014, 6:00am - class 257 with Sandy Robin - No matter what I do, I can't raise my legs very high in the third part of Locust. Sandy raised my legs up high so my shoulders touched the mat. Somehow I have to hinge myself forward over my implants to get to this point. In Fixed Firm, she lifted my torso up to make it arch more like a bridge. By doing these things, she's showing me that it's physically possible for me to achieve what I thought was impossible. My lightbulb moment of the day was in Camel. I lifted my spine up and then arched back. I could see more of the lower back wall! I like when people surround me or stand behind me. It makes me feel like they're following my lead.
December 30, 2014, 9:00am - class 258 with Malea Diehl - Class was in the large room today because the smaller room was being renovated. Malea expertly leads an all-girl class and makes plenty of posture corrections all around the room. My kids are relatively well-behaved as they sit in the waiting area.
December 31, 2014, 9:00am - class 259 with Sandy Robin - My classmate, AJ, introduced me to Susan, a RYT-certified yoga instructor who wants to take Bikram teacher training, but finds it difficult to commit nine weeks to it. I introduced Susan to Evolation Yoga as a Bikram alternative. I told her that, in the eight week course, she'll learn everything in Bikram's teacher training and more.
January 1, 2015, 10:00am - class 260 with Sandy Robin - My classmate, AJ, asked me to be her mentor for teacher training. She feels she's ready to take the next step towards teacher training and needs some guidance. I told her I'd be happy to help her.
Bikram Yoga is a fantastic way for beginning yoga students to learn the mental discipline required to practice yoga, however, looking at all of the yoga clothing catalogs out there, it appears that I've only scratched the surface of what yoga is and what it can offer me. I find myself lacking the ability to do some of the poses I see in the catalogs. I have a lot of heart and determination, but very little natural physical talent. I can't do a leg split, for example, which will prevent me from ever having a majestic-looking Standing Bow. My Achilles tendon is still much too tight, so any leg extension poses will not look entirely right. I never had much chest strength, so I may never achieve what I desire in the last part of Locust. What I've done is focus on what I can do right: Awkward, Eagle, Triangle, Rabbit. These are the poses I seldom get called on, but even if I do, it's usually a bad day for me or the teacher wants me to make minor adjustments to help make my poses better. What my teachers like about me is I'm very teachable. I'm still the newbie student in the class who's been practicing Bikram for less than a year. From what I've seen, practicing Bikram doesn't end once you become a teacher. Like a Ph.D., it's only the beginning. You find out how much you truly do not know by going to teacher training. From what I've seen, even teachers with years of experience are still learning how to improve their practices.
January 2, 2015, 6:00am - class 261 with Justin Riley - Bikram may have intended his classes to be large, but the smaller classes are where some teachers really shine. Justin sprinkled copious amounts of yoga philosophy and posture mechanics throughout the class. It felt as good as a Joel Pier or Chris Fluck class.
January 5, 2015, 6:00am - class 262 with Sandy Robin - I felt like my head could almost touch the ground in Standing Separate Leg Stretching, but Sandy let me know that I'm not pitched forward enough. I felt a lift in Toe Stand again, a feeling I haven't felt since the end of November. In Toe Stand, you have to balance your body on the ball of your foot and keep your butt lifted above your foot, not sit on your foot. After class, AJ asked me all about Evolation Yoga and I gave her all the details.
January 6, 2015, 7:00am - class 263 with Sandy Robin - Throughout my studies, I've discovered many motivational phrases to help get me fully engaged throughout my practice. "There is no tomorrow!" was my most recent motivational phrase. Last week, I started feeling like I was in a funk again, so I went back to basics this week. What had made my practice so strong in the initial months? Desire. It's true that I'm still basically a newbie in all of this, with almost a year of practice under my figurative belt, but the fact is I go five, and sometimes six, days a week. From that perspective, I'm not a newbie, but an enthusiastic advocate. I love yoga so much that I want to teach it someday so I can help others be the best that they can be. Every time that little demon on my shoulder poked me and told me, "Fall out! It hurts!" I responded by being focused and completely still. "It's a good hurt," I said to myself as I held the painful tourniquet I created with my twisted legs in Eagle or stretched my arm ever so higher in Triangle. I no longer practiced yoga. I am yoga. That was my motivational phrase today as I worked through every posture. Instead of collapsing in Triangle, Standing Separate Head to Knee, Tree, and Toe, it was the motivational phrase - I am yoga - that helped bring out the best postures in me.
January 7, 2015, 6:00am - class 264 with Sandy Robin - I've completed over 100 classes with Sandy. She pushes me to be better than I am every day. I have a penchant for teachers who push me. If I'm told that I'm doing something wrong, I won't cower in a corner. I won't retaliate. I work harder to do what I'm doing better. I figure that if my teachers didn't care about me, they wouldn't tell me what I'm doing wrong. When they do tell me what I'm doing wrong, I see it as a privilege, an opportunity, to try to get better. "You're doing so great, especially in that one pose where you didn't rush through it. I'm so proud of you!" Sandy said to me, referring to Toe Stand. Feedback like that makes it all worth it.
January 8, 2015, 7:00am - class 265 with Noelle Burgoyne - "Nice, Clare!" Noelle commented of my Toe Stand. I'd like to go into teacher training with at least the ability to look like I'm levitating in Toe Stand.
January 9, 2015, 6:00am, 7:30pm - classes 266 and 267 with Justin Riley and Robyn King - Another very informative class with Justin. He showed me how to improve my Eagle and Standing Bow. He emphasized the importance of breathing. "Without breathing, this would all be just calistenics. Breathing makes this yoga," he said. Later in the evening, I took Robyn's Bikram Beats class. The music, a mix of 80s and 90s including such hits as Depeche Mode "Personal Jesus" and Hall & Oates "You Make My Dreams Come True," was much better than last time. The class was fast-paced and ended at 75 minutes. There were some die-hard yogis in class. I was visibly frustrated and disappointed with myself when I fell out of two postures. I felt dizzy from the heat and lack of food. I settled own at around 9:30pm with a nice udon noodle salad from HipCityVeg.
January 12, 2015, 6:00am - class 268 with Sandy Robin - Class was packed with over twenty students today, many of whom were taking advantage of a British Airways perk for free yoga classes. The guys who usually stood behind me in class stood to the left and right of me to make room for the newbies who took their spots. It felt good to be right smack in the center of the room with all eyes upon me because it forces me to do better and not mess up.
January 14, 2015, 6:00am - class 269 with Sandy Robin - I had just five hours of sleep before Monday and today's classes. Nevertheless, I just gave it my all as I always do. Having a yoga champion standing next to me inspired me to push myself harder.

January 15, 2015, 7:00am - class 270 with Noelle Burgoyne - Last night, I went into a meat-eating coma after leaving my department's yearly holiday party at Chima, a Brazilian rodizio with all-you-can-eat meats. I didn't look too bad this morning, though, and I did feel a little stronger performing all the postures.
January 16, 2015, 6:00am - class 271 with Justin Riley - Today marks my one-year anniversary with Bikram Yoga. What a journey this is and will continue to be! I have given my heart and soul to this system and it has rewarded me tenfold. Bikram Yoga works!!!
January 17, 2015, 9:00am - class 272 with Thayne Dibble - "You have awesome technique. It's just this one part of Half Moon where you're pivoting too far back that's a problem. Try pivoting at the center part of your belly. The shoulders have to be over the hips," Thayne advised. It's been over a month since I started refraining from drinking water during class. I would tap cool water on my forehead after Eagle and just before Dead Body. After class, I'd drink ten to twelve sips from my water bottle. I'm following the advice from an article entitled "Why You Shouldn't Drink Water While Practicing Yoga" from my Evolation Yoga training manual.
January 19, 2015, 6:00am - class 273 with Sandy Robin - My left leg felt gimpy so I couldn't do Standing Bow on my left leg as well as I should. What the hell happened to it?! My calf muscles felt tight.
January 20, 2015, 7:00am - class 274 with Sandy Robin - Two new students stood behind me to follow my lead. My left leg was still not 100%, so my Standing Bow on my left leg wasn't as good as it should've been. Sandy helped me improve my lifted right leg in Standing Head to Knee. "Don't flex your arms yet," she advised, coaxing me to extend my leg out more.
January 21, 2015, 6:00am - class 275 with Sandy Robin - Sandy again took a close look at my Standing Head to Knee and encouraged me to flex my thigh muscle and lift my lifted right leg higher. It's been a slow, gradual process learning the asana dialog. It's gotten to a point where I'm bored trying to memorize the words verbatim. What I've done to break up the monotony is record my voice saying each asana dialog and play it back while I mouth the words. I'm also trying to practice learning the asanas in sets rather than one at a time. Perhaps this new method will help my studies.
January 22, 2015, 7:00am - class 276 with Noelle Burgoyne - Noelle helped me with microalignment issues in several poses, including Half Moon (putting more weight on the outsides of my feet), Balancing Stick (lifting my arms up more), and Locust (getting the back of my foot straighter).
January 23, 2015, 6:00am - class 277 with Justin Riley - To me, the first part of Awkward is just horse stance in kung fu, but Justin and Thayne want me to reach forward like Superman. Hmmm... it feels a lot easier that way. Justin felt I was collapsing in Eagle by sitting down too low. He wants me to sit up higher, but that just feels too easy for me, too. I always defer to Joel and Sandy's instructions when I have doubts, but it's worth keeping an open mind to other views on the correct way to do the poses. Sometimes I adjust how I do a pose to what I know the teacher might like.
January 26, 2015, 6:00am - class 278 with Sandy Robin - In Head to Knee with Stretching, Sandy coaxed my hamstrings to stretch by tapping on my heel. Strangely, I feel as if I've hit a plateau in my physical development. Like any exercise, the first six months showed the most improvement. The next six months showed about 10% improvement above that. I might be in a phase where I'm just going to improve by 1%. Perhaps my upcoming teacher training will really help deepen my practice because I'll be getting a lot more individual attention.
January 28, 2015, 6:00am - class 279 with Sandy Robin - My Half Moon is crooked again. I have to fix that. Sandy noticed my progress in Standing Separate Leg Head to Knee. "C'mon, you can do it! Touch that forehead to your knee! Push your forehead into your knee! Palms together! Glue those wrists together and stretch out more!" she stated. More than half the people in the room received the same individualized attention in other poses. "Of course, teachers never tell other teachers what they're doing wrong," Sandy laments. "I want you to tell me what I'm doing wrong, I would tell them," she said.
January 29, 2015, 7:00am - class 280 with Noelle Burgoyne - I felt a little less frazzled today than yesterday. I fell out of Eagle for the first time in many months. I held my pose for the full duration in Standing Bow, though.
Someone recently asked me, "I am reading your book and one of the things you stress is being thin. It makes perfect sense, but do you really think anybody can lose weight? I think some people just have big bones and can't lose weight. What do you think? I am enjoying your book." I responded:
Hi Silvia!
Thanks for writing! Losing weight requires a concentrated effort towards surpassing milestones until you finally reach that end goal. It takes a lot of effort, desire, and discipline to be able to do so, so not everyone can lose weight easily. However, I am a staunch believer in that whatever you put your mind to, you can do it! It may require a Herculean effort and a very long time, but we must remember that good, permanent changes take time to happen. This is where faith comes in and I do not mean faith in God, but faith in yourself and the ability to convince yourself that "yes, I can do it!" All that being said, thin is different for every person. Yes, there are people with big bones, but you also have to consider how much of the extra weight is big bones versus actual fat that needs to be lost. A body fat analysis test will usually give you an idea of how much you should lose. The important thing to remember is feeling comfortable with yourself and the changes you are making. Reward yourself every step of the way by acknowledging all of your hard work in improving yourself. Some people may feel that eating is a reward, but I don't recommend that. It is better to look at yourself and smile in the mirror at all of the progress you've made.
Love,
Clare
January 30, 2015, 8:00am - class 281 with Justin Riley - I worked last night so my usual six hours of sleep didn't seem like enough rest. I finally woke up during Eagle Pose. I didn't want another wobbly performance. I feel fortunate to have found a wonderful, open community like Bikram Philadelphia because as I walk down Sansom and Walnut Streets after class, I notice other yoga studios were in limited access buildings. That's a very stupid move on their part because it limits the ability to get a diverse group of people into the studio. Somehow I think that's what these other studios want.
February 2, 2015, 6:00am - class 282 with Sandy Robin - Sandy noticed I wasn't as strong as usual today. I admitted it was the aftereffects of Superbowl Sunday. After class, Sandy showed me a better way to do a Sit-Up that deviates from Bikram's method, but may be more beneficial to me. The new method will help me stretch better in Head to Knee with Stretching Pose.
February 3, 2015, 7:00am - class 283 with Stella Rose - Stella straightened my foot in Balancing Stick. Hopefully, I'll fix some of these alignment issues before teacher training. I admitted to Lisa, a friend I met at the Bikram Philly Retreat, that I didn't know if I was ready yet. There's still a lot of dialog to learn. I must admit, though, that after class, I felt really refreshed and happy.
February 4, 2015, 6:00am - class 284 with Sandy Robin - I took a step back today with Standing Head to Knee and didn't kick out until the second set. Sandy likes it when I'm patient. In her practices, she's been experimenting with not kicking out in the pose for the past month.
February 5, 2015, 7:00am - class 285 with Noelle Burgoyne - Noelle's been working on my footwork in Half Moon the past three weeks. I noticed she's been great at helping the new students in class.
February 6, 2015, 6:00am - class 286 with Justin Riley - When you are next to someone who kicks ass in her practice, it forces you to focus more on pushing yourself further than you thought you could do that day. This is why I like when someone like Thayne or Emily stands next to me or near me. I'm inspired by them. I feed off of their energy. When I'm near someone who doesn't have the same high energy level and mental focus, I have to focus my mind inward to avoid distraction. I felt a little more bendy today in Half Moon.
February 7, 2015, 9:00am - class 287 with Joel Pier - It's been almost four months since I took a class with Joel. There's something refreshing about his classes. I feel energized when I take them. When you look at certain teachers, you can just tell that they're operating at a higher plane than everyone else. Joel is a healer. He makes adjustments to both beginners and advanced students alike. His spinal therapeautic "pushes" on the upper back are similar to toggle drops in chiropractic, except Joel is so strong he does it with one hand!
February 9, 2015, 6:00am - class 288 with Sandy Robin - A classmate took my usual space today, so I wasn't in the center of the room as I usually am. That's okay, because whoever is in the spotlight had better be prepared to be critiqued. This is why I love the front and center of the room. Everyone sees you. You are under scrutiny by the very watchful eyes of everyone who hears your name called when you mess up. If you are the least bit out of shape or awkward, you will be seen. You can't mess up. You won't mess up. It's the perfect spot for a Type A personality. Unfortunately, Ajay won't be able to join me for teacher training next month, but she definitely wants to learn as much as possible about it before she goes.
February 11, 2015, 6:00am - class 289 with Sandy Robin - My Half Moon felt a little stronger today. I didn't try to flex as deep as usual. I kept my palms together under enormous strain. I did the same with Standing Head to Knee. I just held my lifted leg in place without kicking out. Sandy says that building your foundation is much more important than kicking out. She encouraged all of us to stand in a different spot in class next time. Strangely, I feel that the spot I always take is somehow blessed with my energy.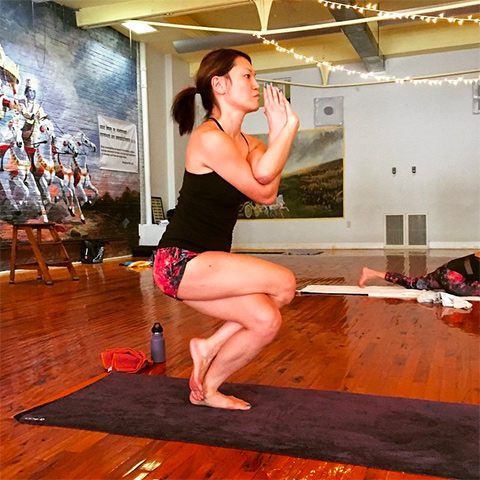 February 12, 2015, 7:00am - class 290 with Noelle Burgoyne - I moved one spot over from my usual spot today. It actually felt better to be in a new spot today. Today marks my two-month anniversary of not drinking water in class. Wow, that was 45 classes ago that I started doing that.
February 14, 2015, 9:00am - class 291 with Joel Pier - I stood in the middle row of the upper floor studio today at Sandy's request. I didn't do too badly in the new spot. The only qualm I have about being so far from the mirror is I can't see every little nuance of my body. It was cool that I was standing next to someone who was doing a lot of Advanced Series postures. When we got to the last pose, I made an attempt at Full Spine Twist. Before class, I got a classmate to take pictures of me for the studio's photo contest. I promised I'd give her the prize if I won. After class, I ran into Joel at HipCityVeg. He introduced me to his friends as a soon-to-be teacher.
February 16, 2015, 6:00am - class 292 with Sandy Robin - A misaligned Half Moon today. The recurring theme is my Half Moons are terrible on Mondays. I stumbled in Awkward because my left calf gave way. Eagle on my left leg was also wobbly. The cherry on top of this bad ice cream was a wobbly Standing Head to Knee. What the hell is wrong with my left calf today?
February 17, 2015, 7:00am - class 293 with Joel Pier - Joel liked the first part of my Awkward pose, but not the second and third. "You need to lean back more," he said as I tilted my body back millimeter by millimeter, getting ready for a collosal collapse. My body went into shutdown mode right after my second Camel. I had to sit out of Rabbit, so I did the pose after class. I also tried to do Full Spine Twist and Crow, but to no avail. My body just wasn't ready for these poses today. There were only six of us in class today due to the inclement weather. Schools were closed or open late today. The streets were a mess since the snow plows weren't out yet. Onzie had a photo contest where you had to send a selfie of you wearing Onzie clothing. In the photo's caption, you're supposed to answer, "Tell us why you love yourself" and "What makes you beautiful?" I responded, "I love myself through the practice of yoga. I am beautiful because I do yoga."
February 18, 2015, 6:00am - class 294 with Sandy Robin - I'm discovering that when I don't overextend myself in Pranayama Deep Breathing, my Half Moons look a lot better. I got my left calf back. My weak left calf from two days ago felt like lactic acid buildup in my muscles. For me not to be able to do a stable Eagle would make me feel sad. I taught one of my coworkers Pranayama Deep Breathing and Half Moon today. She said it would be great if I taught yoga classes to all of our coworkers.
February 19, 2015, 7:00am - class 295 with Noelle Burgoyne - Perhaps someday Noelle will read this, but I feel indebted to her as she is a fantastic yoga instructor and a great role model. Whereas some teachers sound like they're reciting the Bikram dialog from memory, Noelle's dialog sounds like a nice song from start to finish because of her use of inflection and the additional phrases she incorporates into the dialog. She's really managed to make the dialog her own. On occasion, when Noelle sees a new or intermediate student messing up, she'll take the time to correct a pose or demonstrate it and offer words of encouragement to the practitioner. Everything about her is so positive. She radiates good energy.
February 21, 2015, 2:00pm - Foundation Training with Chris Fluck - For anyone experiencing back pain, Foundation Training focuses on strengthening the full posterior chain and correcting poor movement patterns to maximize power, flexibility, and endurance. Chris is our region's certified trainer in this very special training method. This 2.5 hour workshop gave students a history of the method and introduced us to a series of exercises that we could add to our daily routines, but what makes this workshop truly outstanding is Chris relating his life experiences as a personal trainer and teacher. My ribcage felt really sore the next day. After class, I came to an epiphany. Given the choice between having more strength or having more flexibility, I'd choose strength. This is probably why I gravitate towards classes with teachers I view as being very strong: Sandy, Joel, Chris, Noelle.
February 23, 2015, 6:00am - class 296 with Sandy Robin - A few months back, I deleted my goal of wanting to be the demo girl in my classes because I realized it was a vain goal and not what yoga was all about. The stars must've lined up for me today, because, much to my surprise, Sandy called on me to demonstrate Toe Stand for the class. Having already done a Toe Stand as best I could, I tried to do it again, but my second one wasn't as good as my first. Still, it was nice to hear the appreciative claps of my classmates.
February 25, 2015, 6:00am - class 297 with Sandy Robin - I did Toe Stand on Monday evening - my third of the day - and heard and felt a loud crunch and crackle in my knee. It was an OH-SHIT moment. I didn't want to take any chances so I skipped class yesterday. My knee wasn't the same as it was on Monday. I couldn't rise on my toes like I could on Monday. I need to train, but not overtrain, on my last week and a half before teacher training.
February 26, 2015, 7:00am - class 298 with Noelle Burgoyne - My knee still felt a little crunchy, but it was much better than on Monday evening. Noelle joked that class looked completely different with me standing on the other side of the room.
February 26, 2015, 12:00pm - Gentle Yoga with Laura Edoff - At noon, I took a Gentle Yoga class at my workplace. Unlike Bikram Yoga, this class had the beginning yoga student in mind. All of the postures were simplified or modified for people with little exposure to yoga.
February 27, 2015, 10:00am - class 299 with Chris Fluck - Chris helped me in Standing Head to Knee and encouraged me to raise my leg up higher before bending my elbows down. He noted that my spine was getting straighter in Standing Separate Leg Stretching. He also noted that I should lift my spine up high before I roll down in Rabbit. That makes sense to me as I always make a conscious effort to roll my spine straight and up, and then tilt my head back slightly, when I reverse out of Rabbit. Chris recommended Jan Schmidt-Garre's film, Breath of the Gods, to us. "Unless you have a coordination of breathing and movement, you are not doing yoga. You are just doing physical exercise," says Namagiri, a female yoga master. I remember Chris mentioning this point during one of his classes.
March 2, 2015, 6:00am - class 300 with Sandy Robin - A severe snowstorm hit Philadelphia yesterday. The streets were covered with sheets of ice from last night to this morning. Sandy is never late, but today our little group of seven - nine if you count the two who prematurely left thinking that class was cancelled - waited patiently for her arrival. When 6:00am arrived, a couple of classmates tried calling or texting someone for updates. At 6:06am, I texted the owner of the studio and told her that if nobody else could make it, I could teach the class. She said okay. One of my classmates told everyone that I'll be going to teacher training next week, so I would be fine teaching the class. I started the class at 6:17am with Pranayama breathing. Strangely, I found myself pacing the floor like Sandy, trying to channel her energy. My biggest concern was trying to make the six-count not sound monotonous. I remembered Chris Fluck and Bikram punctuating the words, "Hold it!" at the end of every inhaling six-count, and I did the same. On the exhales, I'd say, "Exhale, a loud hahhh sound." When I saw someone not looking in the mirror at the end of an exhale, I'd say, "Eyes focused in the mirror." Sandy arrived at 6:20am and asked me to keep going and so I finished my first set of Pranayama with the class. Everyone applaused. It was a nice feeling.
"The time has come for the union of a healthy body, a peaceful mind, and the realized Soul within each of us. The time has come for knocking down walls, for forgetting our fears, and forgiving each other in the creation of a global civilization based upon the ideals of friendship, truth, and love. The time has come for yoga. See you in class, my friend."
- Bikram Choudhury